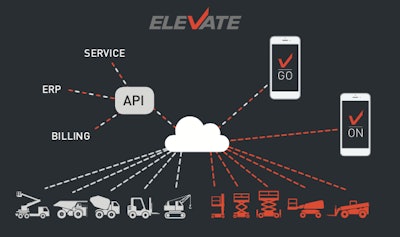 Skyjack says it is "disrupting the telematics industry" with its Elevate telematics package designed specifically for off-highway rental fleets. The fully customizable service was announced at The Rental Show this week.
The idea behind Elevate was to go beyond long established on-highway trucking industry telematics programs to design something specific to off-highway fleets, says David Swan, Skyjack product manager, innovation and technology. On-highway solutions have features and a cost model that "simply doesn't work for off-highway fleets," he says. "Today there is too much data, too few insights with the telematics data provided. They are going for the most data instead of the most important data."
Working in partnership with Trackunit, Skyjack's Elevate solution has identified the most important data coming from Skyjack's line of mobile elevated work platforms and telehandlers. Trackunit—which has more than 250,000 live assets in the field—has devised a telematics solution that can be installed either on the factory floor or as a retrofit to existing machines in the field. When Skyjack announced its agreement with Trackunit last October, it said it would devise packages for both data-only, which support rental company ERP systems, and a standalone end-to-end system.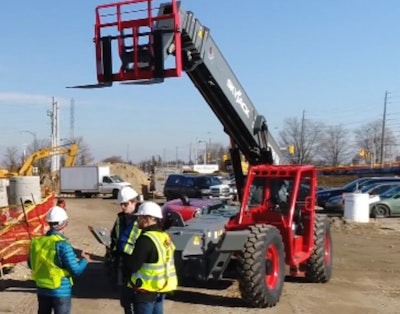 "Our emphasis is one delivering measurable benefits and actionable insights, that will have a concrete impact on a business from day one," Swan says. "We know that actionable insights are only valuable if they give you a tool to change behaviors. It's not about providing data points on a map, but rather about giving real ROI."
Deciding to deliver information where customers do business, Skyjack is using a mobile-first approach with Elevate, using the Elevate ON and Elevate GO apps. The apps will connect the operator to the unit, and digitally track machine pre-checks and familiarizations. Working in the background, Elevate Manager will run and schedule reports, sending it out to the apps so everyone can act on the same data.
The Elevate ON app provides:
Digital machine pre-checks with visual walk through
Digital tracking of pre-check history for each operator per machine
History of machine utilization per operator
Site manager overview of pre-checks, damage reports and damage reports by operator
Operator access to in-app tracking of machine damage.
The Elevate GO app provides the data available in the Elevate Manager web portal, including service alerts, proximity compass, usage reports, fleet overview and insights.
Early Elevate users include BlueLine Rental, which has equipped 100 percent of its Skyjack fleet with the system.