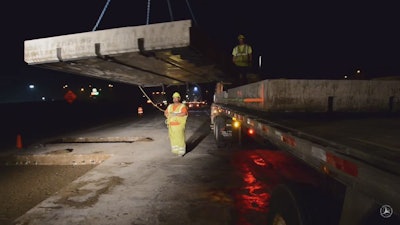 Engineers at the Louisiana Department of Transportation and Development (DOTD) are experimenting with Precast Reinforced Concrete Pavement to improve its highways, KTBS reports. It will be the first time the process has been used in Louisiana, but the Federal Highway Administration (FHWA) has had success with the process in other parts of the country.
"The speed of construction reflects into faster opening of the travel lanes," FHWA's Suneel Vanikar P.E. told the news agency. "It also poses less danger to the construction crews and one of the biggest benefits is the minimization of user delay costs."
"If this is something that the department deems workable for us for future projects, it really could transform how we're able to get a project like that off the ground and truly get that ball rolling in terms of a traffic management standpoint," Buchanan told the news agency. "Because that's a huge hurdle to cross when you're talking about rebuilding that part of Interstate 20 through Bossier," said Buchanan.
The project is expected to cost about $2.8 million dollars, most of which will come from the federal government in the form of demonstration money, which allows states to see how it works for them and consider using the process in the future. The precast pavement is more expensive that repairing the on-ramp with hot-mix asphalt, which has been done in the past, but speed of construction and endurance of the pavement need to be considered as well.
After the project is finished, the DOTD plans to monitor the on-ramp for about a year to determine if it's something the state should invest its tax dollars in for future projects.