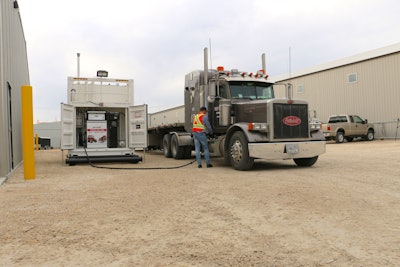 Western Global has introduced a new Fuel Island for bringing fuel to your commercial fleet to save time and money.
The portable fuel station can be monitored remotely to gauge consumption. It also comes in a variety of configurations – either in-cabinet or out-of-cabinet – for most fuel types and jurisdictions.
The company offers three different skid-mounted fuel tanks, ranging from 3,124 to 17,731 gallons. Along with the tank, the three optional equipment packages come with dispensing equipment, a fuel inventory-monitoring system, card-lock equipment, an electrical panel and all necessary plumbing and wiring.
Western Global will also preassemble the island, install all components and deliver it ready for immediate use.
"Site setup and installation time is greatly reduced compared to a conventional site-built solution, as the Fuel Islands are largely 'ready to use' when they arrive at the customer's location," says Bob Lennox, Western Global's North American Fuel Solutions Group sales lead. "Our team works with the specific local authorities for the client's site to ensure full compliance prior to setup."
The company says the island's tank, part of the TransTank P-Series, is designed with double walls to prevent spills. A lockable cabinet to safeguard the tank is also available. For easy maintenance access, the tanks have a manway on top and a built-in ladder.