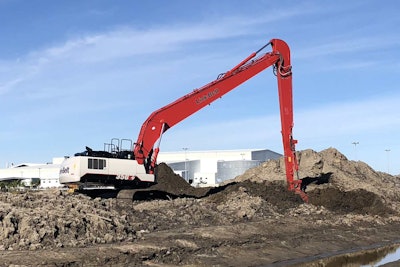 The new Link-Belt 350 X4 LF long-front excavator from LBX boasts increased fuel efficiency and longer arm, boom and auxiliary spools than previous models.
LBX added an Isuzu Tier 4 Final engine to the excavator, which requires no diesel particulate filter. It also features a 3 percent consumption rate of diesel exhaust fluid and a large tank to allow long work hours without DEF refill.
The excavator has an operating weight of 87,634 pounds, max dig depth of 46 feet, 3 inches and reach at ground level of 60 feet, 10 inches. The company says it is also the "only factory-built long-reach excavator available in this size range."
Along with fuel efficiency, the excavator provides cycle times of 8 percent faster than predecessors. This increase is due to a new proprietary control valve with a 30 percent larger hydraulic passage area, as well as two electronically controlled Kawasaki variable-displacement axial-piston pumps and one Kawasaki gear pump to precisely deliver hydraulic flow as needed, the company says.
Designed for dredging, cleaning and sloping, the 350 X4 operates in one of three modes: speed priority (SP) for fast work; heavy (H) mode for the best blend of power and fuel savings; or applied power (A) mode, which has 13 different rpm settings to control of heavy-lifting, fine-grading or leveling work, LBX says.
The 350 X4 also features a cab with rollover- and falling-object protection; a large automotive-grade high-back seat that reclines to 155 degrees; and arm rests that move proportionally with the console, keeping the distance and angle between the joysticks and the operator the same, no matter how the seat is adjusted.