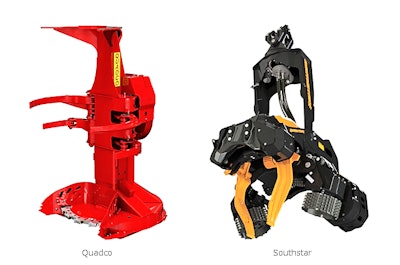 Komatsu announced today that it has signed an agreement with Prenbec Equipment to purchase the Quadco and Southstar brands of forestry attachments from that Quebec, Canada-based company.
The deal, financial details of which Komatsu did not disclose, does not include the Tanguay and Forespro delimbers. The deal will be completed through a Komatsu subsidiary, is expected to close in February and will likely have no meaningful impact on Komatsu's current fiscal year, which closes March 31, Komatsu says.
Komatsu says the deal's roots stretch back to 2016 when the company decided to expand its forestry attachment business as part of a three-year mid-range management plan. Komatsu says it sees the global market for forestry machines and attachments "continuing to grow at a rapid rate," particularly in North America, where Full Tree Length logging—which employs a felling head attached to a base machine and a skidder—is the dominant method.
With the Quadco/Southstar acquisition under its belt, Komatsu says the company has become a "leader in forestry attachments," since it is now able to offer a full range of forestry attachments. The Quadco felling heads and Southstar large harvester heads will join Komatsu's existing Log Max and Komatsu small- and medium-sized harvester heads.
Quadco and Southstar will operate as independent companies with Komatsu, according to a Komatsu release, and will maintain their existing sales networks. However, Komatsu says that it does plan on creating a new forestry division called Komatsu Forest AB in order to better manage the Quadco, Southstar and Log Max brands while providing more focused customer service to forestry customers.