Little Beaver's Towable Hydraulic Earth Drill has a balanced frame that reduces operating weight by roughly 50 percent, compared to traditional hydraulic drills, according to the company. The drill frame balances the weight of the drill over the wheels  and requires less than 20 pounds of force to pivot into digging position.
In addition, the frame eliminates torque for safe, one-person operation, pivoting into position without damaging turf or landscaping. The unit can be transported via a removable no-tools towing hitch, saving truck or trailer space.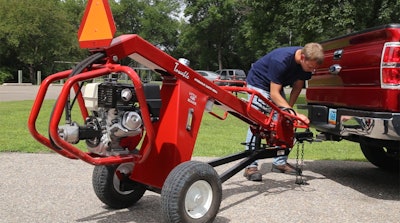 It has an 11-horsepower Honda engine and a 2,700-psi hydraulic system that provides up to 300 foot-pounds of torque with 150-rpm auger speed. The unit's 34-inch width enables it to pass through gates and other tight spaces perhaps inaccessible to skid steers. The two-position handle rotates 180 degrees to drill near buildings, walls and other structures. The forward and reverse auger rotation control is placed on the handle and a built-in pressure relief valve activates if the drill reaches a certain hydraulic pressure, safely stopping the auger.
The drill is compatible with the company's 36- and 42-inch standard and carbide augers, which come in 1.5- to 18-inch diameters. A rock snap-on auger is also available, and comes in 6- to 16-inch diameters. Spring-loaded snap buttons secure the auger to the drill head, eliminating the need for tools. The drill's infinitely variable 20-degree auger tilt makes it possible to drill vertically in uneven terrain.
Used for fence and deck building, along with sign installation, the drill is also available for rental companies and park and recreation departments.