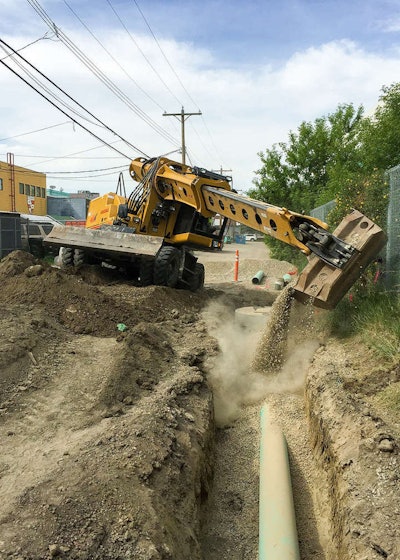 Beyond a new, more fuel efficient Tier 4 Final engine, Gradall has introduced an updated model of its XL 3300 wheeled excavator that also boasts an improved electrical system.
The XL 3300 V is a 4×4 wheeled excavator capable of being driven up to 20 miles per hour both on and off pavement. Gradall says the 39,295-pound machine is also the only on-/off-highway excavator that "can work at the front, rear or either side of the undercarriage without the need to lower its optional outriggers or optional grading blade for extra stability."
The machine is powered by a 5.1-liter Volvo Penta TAD571 VE engine providing 173 horsepower. The new engine reduces fuel use by 5 percent over the previous generation XL 3300. The upgraded 24-volt electrical system creates "a better power source," Gradall says. (More specs are below.)
A full-time 4-wheel drive transfer case delivers power from the hydraulic drive motor to the drive axles, which are outfitted with wet-disc brakes.
The machine's telescoping, full-tilting boom positions buckets, hammers, grapples, shears and other attachments without losing power, Gradall says, while a short tail swing allows the XL 3300 V to work along highways with "minimal traffic interruption."
The XL 3300 V provides operators with a full view of the entire boom when working. The cab features a large seat with integrated joysticks and a switch that allows for choosing between the Gradall, Deere or SAE joystick patterns. Foot pedal controls carry out repositioning.
Quick specs