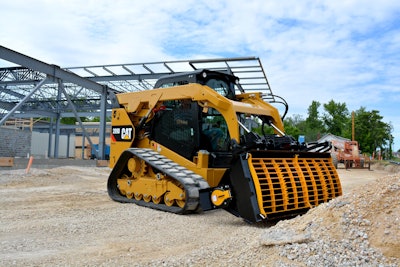 Danuser's new MegaMixer attaches to skid steers, telehandlers and pallet forks to collect, mix and pour a variety of materials.
The operator can use the mixer to scoop from piles of sand, gravel, soil, sawdust or have cement, mortar or grout poured into it. It has built-in cutting edges. An auger, which comes rubber flighted or all steel, mixes the materials, and the mixed material can then be poured from either side of the attachment. The rubber-flighted auger is designed for best handling such materials as wet or dry sand, mulch and topsoil, while the all-steel auger is designed for such materials as concrete, mortar and grout.
Features on the MegaMixer include integrated chute storage, bag busters, a lockable discharge gate, klik pin holders and easy-to-read yardage markers.
The auger is 8 inches in diameter and capable of dispensing a full hopper of up to 2-inch diameter gravel in less than 35 seconds, the company says.
The hopper has a capacity of 20.25 cubic feet, and 27 cubic feet with an optional hopper extension. It can hold up to 80 pounds of bag concrete mix. The attachment's hydraulic requirements are up to 25 gallons per minute and up to 3,500 pounds per square inch.