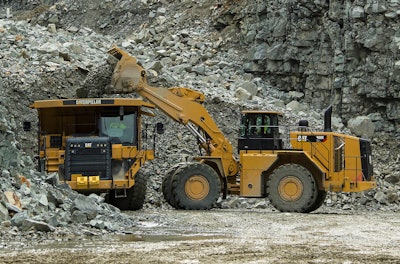 In building its first electric-drive wheel loader, Caterpillar focused on what customers say are their applications. The result, Cat says, is a new machine with higher efficiency, lower maintenance and longer engine life expectancy.
The 988K XE will deliver 25 percent overall improvement in tons per gallon, on average, when compared to the standard 988K, says Todd Tuntland, a Cat product application specialist. (In the video below, Tuntland walks us through all the improvements the new machine has to offer.)
Most Cat customers now use the 988K more than 2,000 hours a year, so their benefit is really in how much fuel can they save and how much material can they move in a year, says Karl Weiss, vice president of material handling and underground mining.
That's why Cat focused on efficiency rather than cost per hour with the new XE, Weiss says.
The 988K XE wheel loader is recommended for demanding job sites where fuel efficiency makes a difference in total cost of operation. The transmission has been replaced with an electric drive powertrain.
Using the machine in a high production truck-loading tough dig, Cat has documented up to a 49-percent improvement in efficiency – tons per gallon – with the XE compared to the 988K, Tuntland says. He cites data that came from a fully-trucked situation with no idle time.
A second data set involves a scenario that's probably more common to a lot of customers, given that it includes some idle time. "That's where we went from 9.5 down to about 7.2 gallons per hour, and the efficiency advantage was about 33 percent," Tuntland says.
The new loader delivers up to 10 percent higher productivity in load-and-carry applications, Cat studies have found, with some fuel reduction as well.
"We also saw a very nice production improvement – tons per hour ­in load and carry, and that's because the XE will actually accelerate faster up to its max runout speed of 20 miles per hour, versus the standard 988," Tuntland says, adding that cycle times are quicker.
With such high efficiency, costs drop and so do greenhouse gas emissions – and that helps shrink the carbon footprint, Cat says.
Why is this loader so efficient?
The first reason is that the torque convertor has been taken out. The second is that it runs with less rpm – from 1860 high idle on the 988K down to 1600 revolutions per minute on the 988K XE, Tuntland says.
"Essentially, we took out the torque convertor and the transmission and replaced it with a generator, invertor and motor," Tuntland says of changes with the electric drive system.
"So, torque convertor is gone – less rpms, less fuel."
The fuel-saving Eco mode that does well on the 988K has been taken a step further with the XE, with fuel management that extends into the dig.
"We also took this XE out to a customer site and participated in a 50-ton loader evaluation; it was the leader of the pack," Tuntland told editors recently near Peoria, Illinois.
"It set the new level of efficiency for the industry across all manufacturers – the XE did – highest tons per gallon, most efficient."
Longer intervals, less maintenance
Oil change intervals have been doubled from 1,000 hours with the 988K to 2,000 hours with the XE, Cat says.
The oil filter interval has been extended fourfold from 500 hours to 2,000 hours to match the oil change interval, for more savings in maintenance costs.
"Another key benefit is longer engine and component life. So, we're putting less fuel through this system, engine life goes up and we have generator, motor and invertor matched to that engine," Tuntland says.
In addition to longer durability and less maintenance, the XE is fast and responsive, Tuntland points out.
"With this electric drive system, you get instantaneous torque to the ground."
New virtual gears
The electric drive powertrain means no transmission or clutch and instead a single speed range, so the machine efficiently operates without gear shifting. New virtual gears help control machine ground speed and deliver those smooth, quick directional shifts, forward or reverse.
The XE has 90-percent commonality with the 988K, with the same proven C18 ACERT engine, lower powertrain and cab. While an operator coming from the 988K will feel at home, Tuntland says, he or she will also notice improved acceleration and the smoothness that comes with using virtual gears to select groundspeed.
This large wheel loader joins the line that includes not only the 988K, first introduced in 1963, but also the recently launched 986K.
"If they need a machine that's shorter, lighter in weight, easier to transport and want to get lower cost per ton, that's what this is all about," Tuntland says of the 986K.
Built to last, with payback on premium
The XE features switched reluctance (SR) technology. It leverages more than 15 years of Cat electric-drive experience and more than 4 years of stringent testing in a range of applications for proven reliability in the field, the company says.
The SR drive motor, generator and inverter are all built to last through the second engine life with minimum maintenance. And the efficient electric drive design increases engine life by up to 3,500 hours, extending time between powertrain rebuilds, Cat says.
To assist with electric drive rebuilds, Caterpillar offers customers service training material, backed by customer support from the Cat dealer network. Remanufactured drive motors, generators and inverters will also be available to reduce rebuild costs.
With an average of 2,500 hours of operation per year, and considering today's fuel costs, customers should see a payback on the XE premium over the cost of the 988K in an estimated two to four years, Tuntland says.
The machine is scheduled for shipping throughout North America and Europe in the second quarter of 2018.
988K XE Wheel Loader Product Specifications
| | |
| --- | --- |
| Engine | Cat C18 ACERT™ |
| Gross Power (SAE J1995) | 588 hp (439 kW) |
| Operating Weight – Standard | 116,362 pounds (52 781 kg) |
| Operating Weight – High Lift | 119,618 pounds (54 258 kg) |