Volvo Construction Equipment has updated its 2.7-ton mini excavator model saying it represents a versatile and powerful combination of concepts.
Powered by a 20.9-horsepower Volvo D1.1A engine with passive regeneration, the Volvo EC27D boasts 9,600 pounds of digging force and "impressive" lifting capacity, the company says, adding that it is similar in size to the ECR25D short swing model, but offers greater power and stability than that machine.
Though this new machine uses 5 percent less fuel and has 30 percent less horsepower than its predecessor, the EC27D maintains the same breakout (5,528 lb.-ft.) and tearout (4,060 lb.-ft.) forces.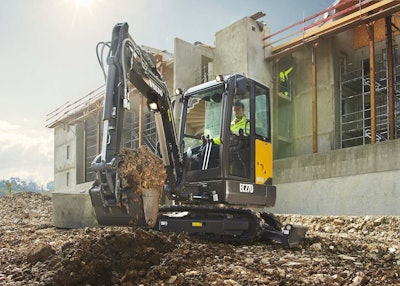 The machine comes standard with a 2.6 cubic-foot bucket but can be paired with a wide range of Volvo mini excavator attachments via a pin-grabber mechanical quick coupler.
Though a ROPS/FOPS canopy comes standard, Volvo's Care Cab is an available option on the EC27D and offers 360 degrees of visibility, ample storage and "excellent" noise and vibration insulation.
Volvo says the machine offers "responsive controls and an optimized hydraulic system" and an automatic two-speed travel system. This travel system allows the operator to continually drive the machine at high speed while still allowing the machine to reduce that speed automatically whenever more traction is needed.
Boom offset and auxiliary hydraulic flows are set via fingertip controls while a joystick allows the operator to set the maximum hydraulic flow of any attachment.
Key machine details are below.