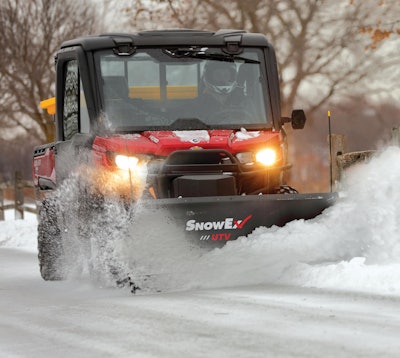 SnowEx has launched the Straight Blade Plow for UTVs, designed for scraping sidewalks and other tight areas.
The 6-foot-wide plow is made of a lightweight alloy steel and can be angled with the touch of a button to 5 feet, 4 inches for narrower conditions.
The operator can control the plow with a Power Grip hand-held control or a compact joystick that the company says can be easily operated when wearing gloves. Its direct lift system can quickly reposition the plow and automatically lock it in scrape position.
Other features include four vertical ribs for additional support, a full-trip moldboard to protect the equipment from obstacles, a 5-inch steel cutting edge and a durable poly cover to protect the hydraulic components.
SnowEx also offers the following accessories for the plow: deflectors, shoe kits, poly cutting edges, curb guards and a light bar.