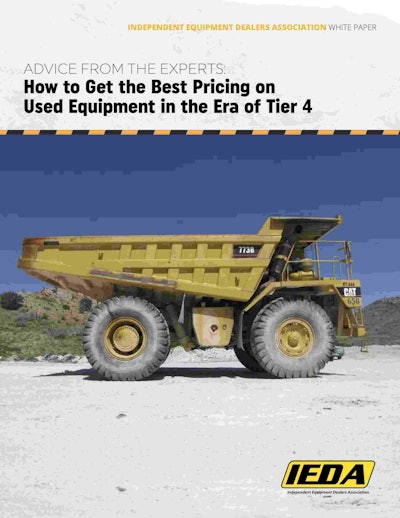 With prices on pre-Tier 4 machinery rising as much as 20 percent, contractors can face a difficult time in determining how much to pay for used equipment. So the Independent Equipment Dealers Association (IEDA) is providing some free advice.
The association is offering a free white paper called Advice from the Experts: Getting the Best Pricing on Used Equipment in the Era of Tier 4.
The paper looks at how emission control mandates have driven up prices on non-Tier 4 machinery and made it harder to find Tier 3 and earlier excavators, backhoes, wheel loaders, dump trucks, dozers and compact equipment.
The 13-page paper also offers tips from dealers on the types of questions to ask sellers, where to buy equipment, evaluating online listings for used equipment and how to inspect the equipment.
Equipment World also recently released its Used Equipment Guide for 2017. Click here to download a copy.