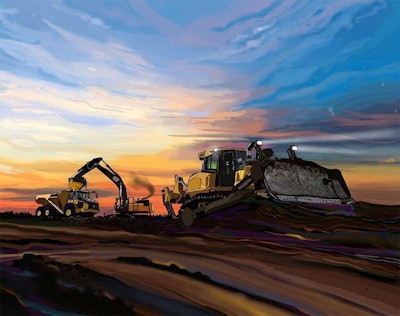 The sight of big machines working in a beautiful outdoor setting can inspire awe. A piece of custom construction art—showing your machines on one of your jobsites—can make a huge first impression and capture that beauty and inspiration for customers and coworkers.
Brad Burns is an artist who has been painting just these kinds of construction scenes for years. A student of fine art at the University of California, Santa Cruz, Burns has created hundreds of paintings for construction industry leaders worldwide. To give you some ideas and inspiration, take a gander through our gallery of Burn's artwork below.
Burns is also sponsoring a contest for an original painting. To enter, send him an original photo of one of your work scenes. The winner will receive a 40×30-inch painting of that scene on canvas. Last year's winner, the Ghilotti Bros's painting of a paving job overlooking the Golden Gate Bridge, is shown directional.
You can contact Burns at (808) 822-0584 or email him at brad@bradburnsstudios.com.