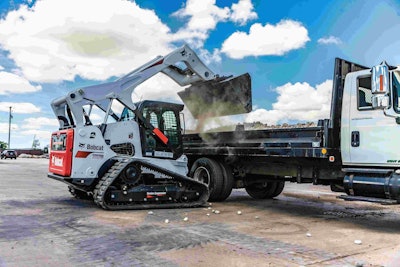 The M2-Series T870 compact track loader is the first Bobcat machine equipped with the company's new 5-Link torsion suspension undercarriage.
The undercarriage, with its fifth link on the rear axle, is designed to increase durability, reduce noise and vibration, and improve performance and operator comfort.
Bobcat's third-generation undercarriage has a new drive motor that is easier to maintain, and its outer bearing is continuously lubricated by oil from the loader's hydraulic system. The diameter of the drive shaft inside the gear box has been increased 15 percent to make it more durable, the company says.
Also for durability, the dual flange front idlers, which guide the rubber tracks, are made with forged steel. The undercarriage is designed with a solid cast spindle mount, which acts as one seamless piece with no welds.
To make the operator's workday easier, Bobcat widened the rollers to increase their contact with the rubber tracks to minimize wear and smoothen the ride. The undercarriage has automatic hydraulic track tensioning, eliminating the need for manual adjustments. The rubber tracks were lengthened for better performance on soft ground, and hoses are protected from snags, the company says.
Bobcat says the design also makes it easier to service and clean, with five easy-access grease fittings, an inner gear box reservoir that can be flushed and filled through two service ports, the hydraulic track tension cylinder mounted in a way to give more room for cleanout, and raised cutouts between rollers for easier cleaning.