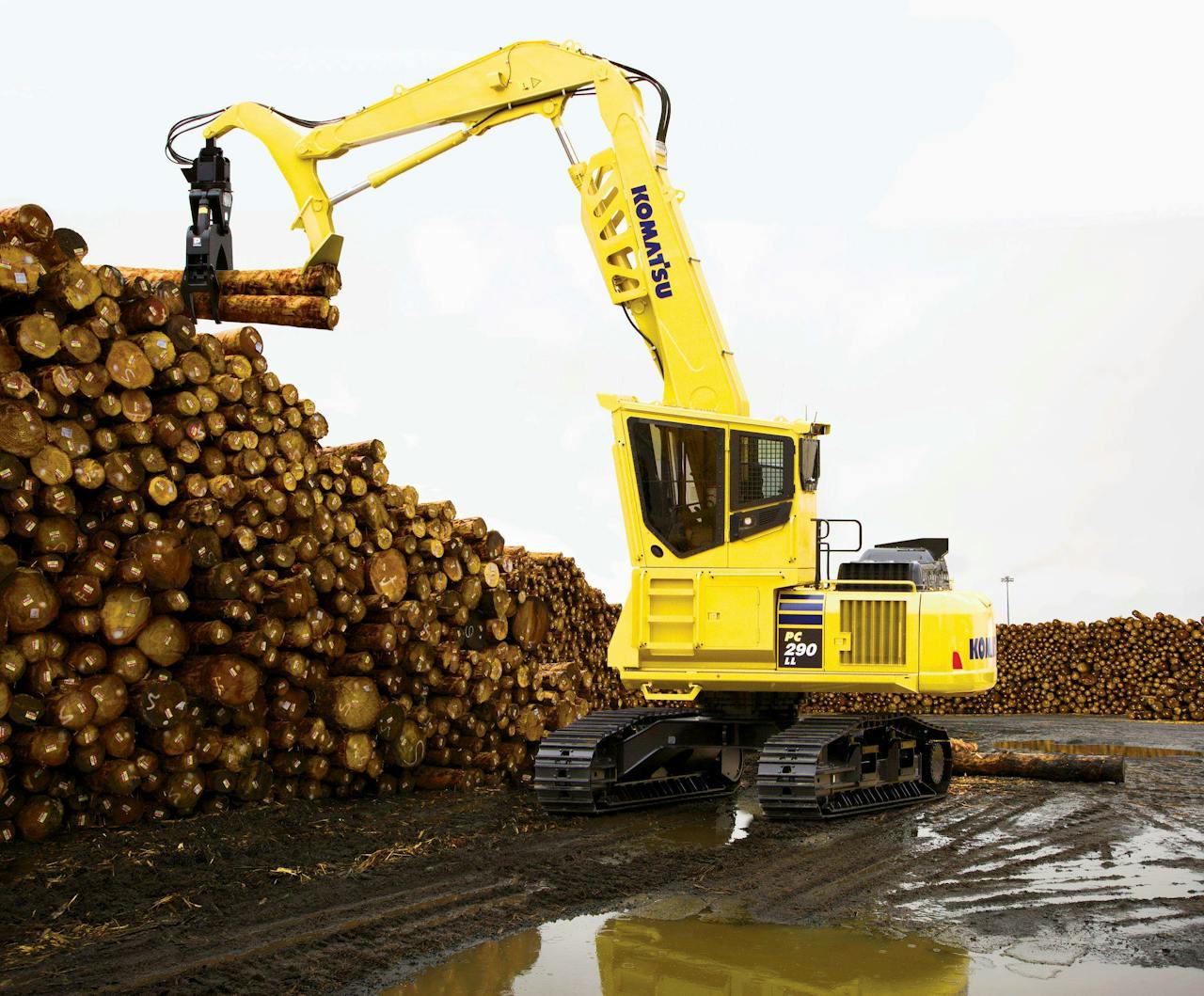 Komatsu is expanding its log loader lineup with the new PC290LL-11.
Powered by a 196-horsepower Komatsu SAA6D107E-3 engine, the PC290LL-11 features a new high-capacity cooling system with wide core cooling fins for the radiator, a hydraulic oil cooler and charge air cooler. Komatsu says the cooling fins have 3 mm of spacing vs. the 1.75 mm of the standard core fins.
The cooling system also features a 1/4-inch (6 mm) thick cooler air intake door that is waffle-screened and sealed to reduce debris accumulation and cleaning time.
Further boosting performance are the machine's final drives, which are the same used in Komatsu PC360-class machines. These drives produce 64,250 pounds of drawbar pull. The machine also features a PC390-class swing motor and drive which delivers higher swing torque.
The PC290LL-11 is available in two configurations: a 40-foot-reach, 89,370-pound live heel log loader and a 34-foot-reach 82,230-pound road builder.
Guarding, lighting and cab
Included standard on the PC290LL-11 is Komatsu's forestry-guarding package which now includes an enhanced right hand corner guard system, a fully protected LED light and a rugged tree deflector with a "hockey stick" design that can be removed or reverse-mounted for transport. Also removable and reverse-mountable are the track frame steps.
The machine's cab is ROPS/OPS/FOPS/TOPS/FOG/WCB/Oregon OSHA certified. The cab is available with a 48-inch hydraulic tilt or a 7-inch fixed cab riser. All of the machine's cab and work equipment lights are now LEDs.
Boom, arm and heel functions are controlled by new lower profile proportional control (PPC) levers. Also new are thumb-actuated, electro-proportional control (EPC) sliding buttons which Komatsu says gives the operator more precise attachment control.
Operators will also find an updated 7-inch LCD monitor with a split-display mode that simultaneously shows both the rear camera view and key machine gauge data. Komatsu's Komtrax telematics delivers further machine data including fuel and diesel exhaust fluid levels, diesel particulate filter regen status, location, cautions and maintenance alerts.