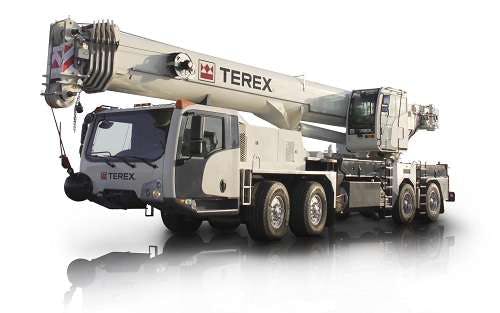 Despite a sales decrease of 10 percent from the same period last year, Terex Corporation reports that the company sees encouraging signs in its first quarter earnings moving forward.
For the first quarter, Terex reported net sales of $1 billion, down from 1Q 2016 sales of $1.1 billion. The company reports a loss from continuing operations of $60.3 million for the quarter, down even further from the $22 million lost in 1Q 2016.
However, when factoring in the money saved from Terex's streamlined corporate structure, the quarter looks very different.
Over the last two years, Terex has sold off all of its earthmoving products to various manufacturers and now serves only three segments: Aerial Work Platforms (Genie), Cranes (Demag and Terex) and Materials Processing (Powerscreen, Finley, Evoquip). When factoring in the gains from these discontinued operations, the 1Q loss shrinks to $4.6 million—a significant improvement from the 1Q 2016 loss of $71 million.
As part of this restructuring, Terex says it has moved its scrap material handling products, concrete mixer trucks and concrete pavers from the now defunct Construction segment and into Materials Processing (MP). Part of the company's North American services business has also moved from the Cranes segment to MP.
"We made substantial progress executing our strategy to focus and simplify the company, and build capabilities in key commercial and operational areas" said Terex president and CEO John Garrison in a statement accompanying the Terex 1Q report. "In January we completed the MHPS sale. We also closed the sale of our loader backhoe business based in Coventry, England, and announced the sale of our India loader backhoe business. Our Cranes restructuring program is making progress, with the closing of our Jinan facility, and we continue to address structural costs. The Commercial Excellence program is providing greater visibility to sales opportunities and helping to improve our bookings and backlog."
"We significantly improved our capital structure, reducing our debt by approximately $600 million, improving interest rates, and extending our maturities. We expect interest savings of approximately $35 million on an annualized basis."
Garrison says the company is increasing its 2017 outlook from earnings per share (EPS) of $0.80 to an EPS of $0.95.
"We are encouraged by our start to 2017," he said. "Looking forward, we see positive momentum in our backlog, which grew year-over-year for the first time in eight quarters. Overall backlog grew 10%, rising in each of our segments. In particular, the North American market for AWP products is stronger than we anticipated, with positive customer sentiment tempering the impact of the replacement cycle."
Here's how the company's segment-by-segment sales broke down:
Aerial Work Platforms 1Q 2017
♦ Sales down 9 percent to $472.4 million
♦ Profit down 43 percent to $21.7 million
Cranes 1Q 2017
♦ Sales down 14 percent to $263.9 million
♦ Loss of $32.8 million compared to a loss of $16.6 million in 1Q 2016
Materials Processing 1Q 2017
♦ Sales up 11 percent to $249.1 million
♦ Profit up 6o percent to $25.5 million
Corp and Other/Eliminations 1Q 2017
*This includes remaining sales of equipment from the company's former Construction segment, including mini-excavators, backhoes and site dumpers.
♦ Sales down 65 percent to $21.5 million
♦ Loss of $20.7 million compared to a loss of $26 million in 1Q 2016