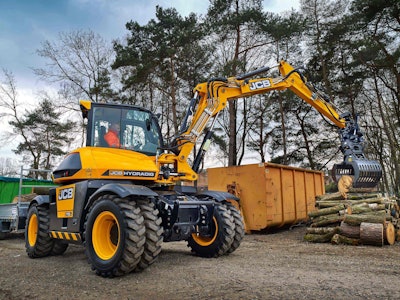 Hydradig, JCB's wheeled excavator that looks something like a un-crashable RC car with a boom and bucket, has finally made its way stateside with an official North American launch.
We first saw the Hydradig 110W, which JCB calls a wheeled tool carrier, at its official launch during the bauma show in Munich last year. And though the unique design of this machine hasn't changed, JCB has dropped in a new Tier 4 Final EcoMAX diesel engine under the hood. The machine made its North American debut at ConExpo 2017.
The new JCB EcoMAX engine delivers 108 horsepower and meets Tier 4 Final standards through the use of selective catalytic reduction (SCR) and diesel exhaust fluid (DEF) instead of a diesel particulate filter (DPF).
JCB says the engine has cut fuel use by 4 percent over the first generation Hydradig.
But since this might be the first time you're seeing or hearing about the Hydradig, let's talk a little bit about the machine's design.
With this excavator, JCB has placed the engine, transmission and tanks in the chassis of the machine instead of within the upper structure. Beyond giving the Hydradig a slim look above its four wheels, JCB says it gives operators the ability to see all four of those wheels from the cab. In fact, JCB says visibility from the Hydradig is "unmatched."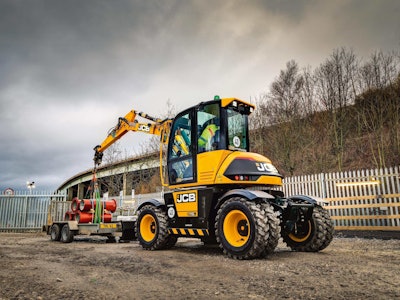 The design also makes the machine more stable since it has a lower center of gravity, while the added weight in the chassis reduces the counterweight and tail swing for increased obstacle avoidance.
The Hydradig also features all-wheel steering, a triple articulation boom and the ability to tow up to 7,716 pounds at up to 25 miles per hour, meaning it can be used to trailer attachments and other jobsite tools.
Inside the cab, operators will find a 7-inch monitor with rotary control, a 12-volt power outlet, USB port, 3.5mm headphone jack, climate control and a high-back, heated, air-suspension seat.
JCB's Hydraulic Quickhitch system is compatible with the hydradlg as are three buckets: small and large general purpose buckets and a grading bucket.