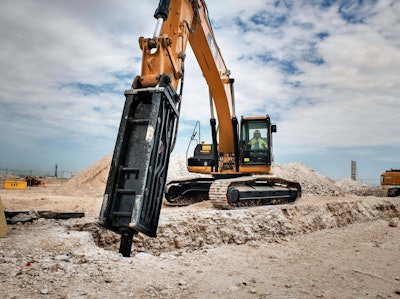 Caterpillar says its B20, B30 and B35 hydraulic hammers are designed for high production on tough jobsites, such as quarries, road construction, demolition and general construction.
They can be matched to hydraulic excavator carriers weighing 19 to 44 tons and can operate a variety of tools, including moil, cone, chisel and blunt.
All three models' housings feature bottom reinforcement plates to protect against damage. The high-pressure accumulator can be serviced in the field. It protects the carrier's hydraulic system by absorbing pulsation spikes created during the firing stroke, the company says.
A stroke-control valve can be adjusted for primary or secondary breaking chores. A full-length side plate opens to service points, including tool and bushings. The lower tool-bushing can be replaced on the job. The hammers also allow quick monitoring of their operating condition through an easily accessible pressure checkpoint, the company says.
Quick Specs
B20 B30 B35
Carrier weight: 19-27 tons 27-35 tons 33-44 tons
Operating weight: 1,846 lbs. 5,234 lbs. 6,660 lbs.
Frequency class: 2,950 ft.-lbs. 4,425 ft.-lbs. 5,531 ft.-lbs.
Rated flow: 33-40 gpm 42-50 gpm 48-58 gpm