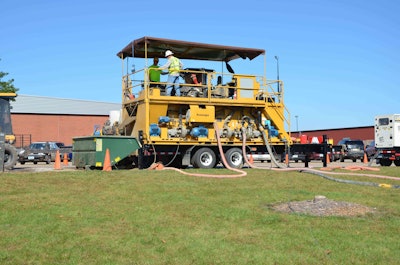 Vermeer recently unveiled its R250C reclaimer prototype, a machine that can be paired with a variety of directional drills and mud pumps and be moved where and when you need it on the jobsite, the company says.
The modular mud recycling system comes with a variety of improvements over previous models. Pumps, electric motors, plumbing and the pressure washer are all on one side of the machine for maintenance access.
The reclaimer has a 360-degree working deck, so workers have greater mobility and visibility to keep screens wet and clean. A scaled double-deck shaker, with a balanced elliptical motion, also provides better access and visibility to the bottom deck without sacrificing overall screen square footage, the company says. The first-cut shaker bed area is 32 square feet, and the second-cut shaker bed area is 18 square feet. The shaker has four screens on the lower deck and three screens on the upper deck.
A 45-degree manifold design increases flow efficiency and reduces sand, causing less wear on components when reclaimed fluids are returned to the drilling process, according to Vermeer.
The R250C is 19.9 feet long, 8 feet wide and 9.7 feet high. It has two tanks with a maximum capacity of 3,690 gallons. The clean/mix tank capacity is 2,296 gallons. It has a first-cut cleaning capacity of 250 gpm.