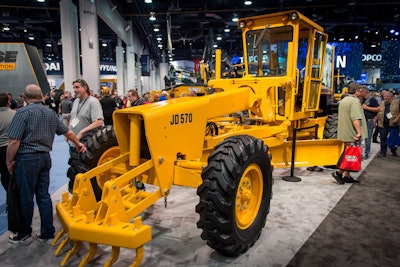 One of the must-see stops in ConExpo 2017's North Hall was a meticulously restored vintage motor grader at the John Deere booth. The machine, a model JD570, was restored by two retired Deere employees, Don Bagby and Jerry Bode of the company's Dubuque Works.
In a release on the restoration of the machine, Deere describes the JD570 as the pioneer of several "innovations and developments seen on motor graders today, including articulated frame steering, hydraulically controlled machine functions and the rollover protective structure (ROPS)."
Deere says that prior to the introduction of the JD570 in 1967, graders were straight-frame machines with solid rear axles typically equipped with front-axle steering. The JD570 however introduced frame articulation greatly improving the maneuverability of the grader. It also allowed operators to crab steer, "allowing for completely new uses."
Another industry first was the JD570's saddle design which was held into engagement by hydraulic pressure and "allowed the operator to place a blade into a 90-degree bank, or any other banking position, in less than one minute without leaving the operator's seat."
Deere says the JD570 came equipped with a 12-foot moldboard and a 17-foot, 4-inch wheel base and had a turn radius of just 18 feet.
Powered by an 83-horsepower engine paired with a power shift transmission, the machine had eight forward and four reverse speeds with a top speed of 21 miles per hour. While the JD570 was discontinued in 1971, the powertrain configuration "became the foundation of John Deere graders up until 1997," the company says.