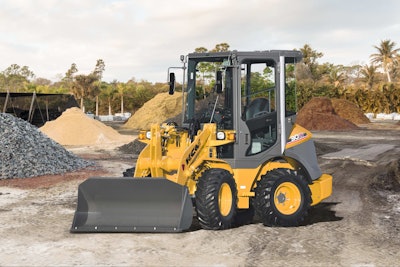 Kawasaki-KCM added two machines to its lineup of compact wheel loaders, including its smallest loader, the 30ZV-2, which joined the 40ZV-2 on display at ConExpo 2017.
The 30ZV-2 runs on a 30-horsepower Kubota three-cylinder diesel engine and Hitachi hydrostatic drive system that gives it a top speed of 9.3 mph. The 40ZV-2 rises to a 45-horsepower, four-cylinder engine, with 10.5 mph maximum speed.
Fuel consumption for the 40ZV-2 is about one gallon per hour, and drops below one gallon per hour for the 30ZV-2.
Both have standard limited slip differentials and a third spool valve for attachments. The 30ZV-2 has a .52-cubic-yard quick coupler bucket and SSL coupler, and the 40ZV-2 expands to .65 cubic yards. The 30ZV-2 has a dump clearance of 6 feet 7.75 inches and a reach of 2 feet 11 inches. The 40ZV-2 extends bucket clearance to 7 feet 7.75 inches and reach to 3 feet.
Other standard features on both models include adjustable suspension seat, single lever hydraulic control, oil-impregnated bucket pins, easy engine access compartment and cartridge filters for fuel, engine oil, HST oil and hydraulic oil. They also come with ROPS/FOPS canopy, reverse alarm, turn signals, rearview mirrors and 3-inch seatbelt.
Optional equipment, such as a sound-suppressed cab, heat and air conditioning, solid tires and radiator screen, are also available.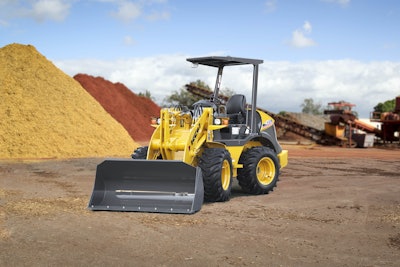 Quick Specs
A comparison of KCM's 30ZV-2 and 40ZV-2 compact wheel loaders introduced at ConExpo:
Product            Net Horsepower         Bucket Capacity          Operating Weight
30ZV-2            30 HP                           . 52 cubic yards           6,800 pounds
40ZV-2            45 HP                           .65 cubic yards            8,390 pounds