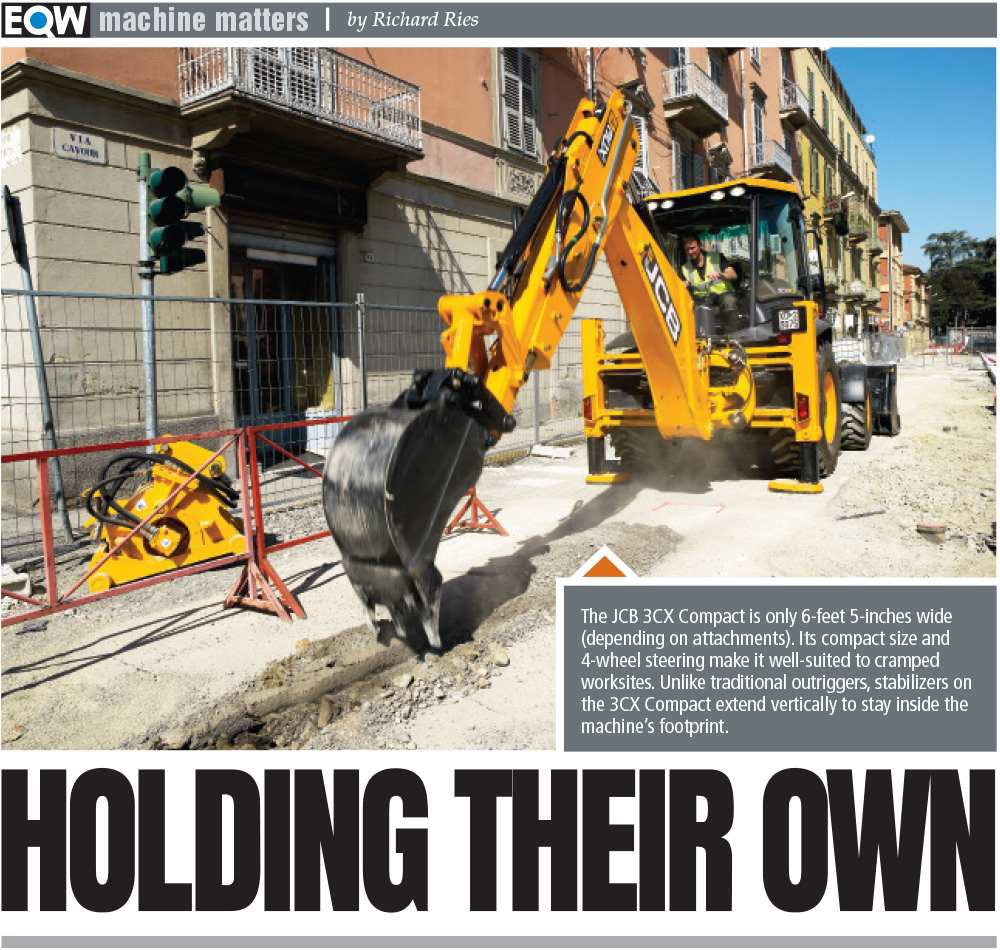 The response of backhoe OEMs? Make their machines even better at the many things they do.
The sales of compact track loaders and compact excavators have exploded and one machine within that burst radius is the backhoe. Many contractors have made CTLs and compact excavators their go-to machines while their backhoes sit idle or are sold. Many contractors are using the two compact machines to replace a single backhoe, and are getting productivity gains with this strategy.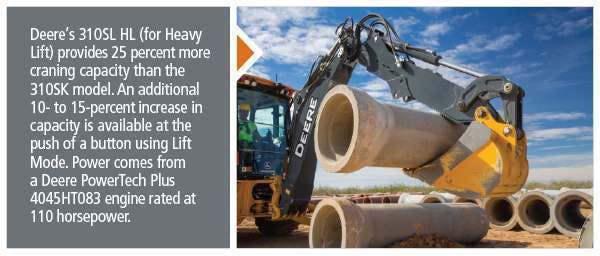 How profound is this sales shift? According to Equipment World sister company EDA, sales of compact track loaders and compact excavators began soaring in 2010 and from that year until last year, sales volume for both types of machines increased some sevenfold. Meanwhile, backhoe loader sales crept up by bits until mid-2015, when sales began to fall off. Backhoe sales since 2006 have never been greater than sales for either CTLs or compact excavators, but by the middle of last year they were less than one-fifth of either.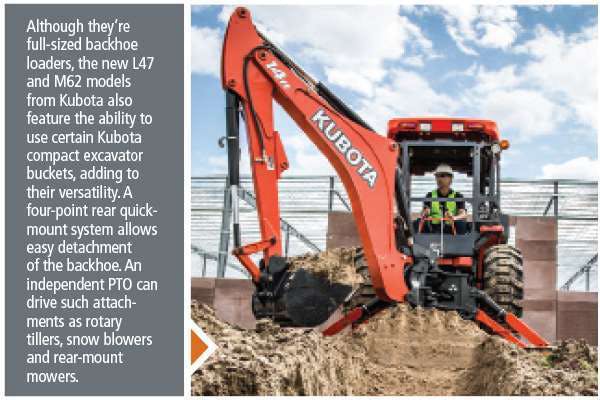 Is the handwriting on the wall? Have compact machines (and, to a lesser extent, skid steer loaders) signaled the death of the backhoe? Hardly, and here's why.
More power for more tasks
While backhoes come in a wide range of sizes, on average they are bigger and more powerful than compact machines. "As a larger machine with more power, more reach and more height, a backhoe can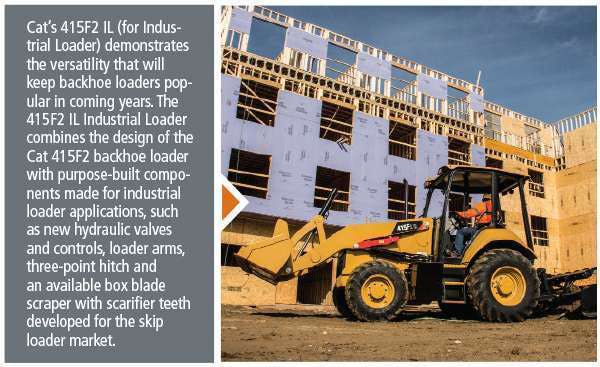 handle heavier work than a compact machine or a skid steer," says Ed Brenton, backhoe loader brand marketing manager at Case Construction Equipment. "A backhoe will also accept a bigger bucket, has more horsepower and hydraulic power for lifting heavier loads and can lift that bigger bucket or heavier load higher." He says stabilizer legs further enhance the heavy-lifting capacity of a backhoe.
Typical applications that favor backhoes are stockpiling, loading trucks, trenching and lifting, according to Brian Hennings, product market manager with John Deere. In addition, larger backhoes are not easily replaced with compact equipment. "Compact machines offer diminishing value to customers in comparison to backhoes of 15-foot-and-greater dig depth. At that point you're getting into larger excavators and wheel loaders."
Regardless of size, backhoes may offer more versatility than compact track loaders, excavators and even skid steers in certain applications. Jeff Jacobsmeyer, product manager at Kubota, says the B26, L47 and M62 backhoes were designed to maximize this versatility. "With all Kubota compact models, the customer can remove the backhoe and operate the machine as a loader landscaper and then choose to take advantage of the power take-off to operate 3-point attachments." He says dig depth on the M62 was increased to 14 feet, "comparable to a full-size backhoe loader but with the advantages of a compact machine." The 8,925-pound M62 has a turning radius of 10.8 feet (with brake).
To make the most of this versatility, Hennings encourages customers to consider their current and potential applications when spec'ing a backhoe. "Couplers for the front and rear of the machine will allow the use of attachments from pallet forks and brooms to breakers, specialty buckets and thumbs."
Large and small
Hennings says while Deere continues to improve their full line of backhoes, they've been especially focused on the larger machines. "We've paid special attention to productivity, efficiency, reliability and comfort in these larger machines that form the core of the backhoe market."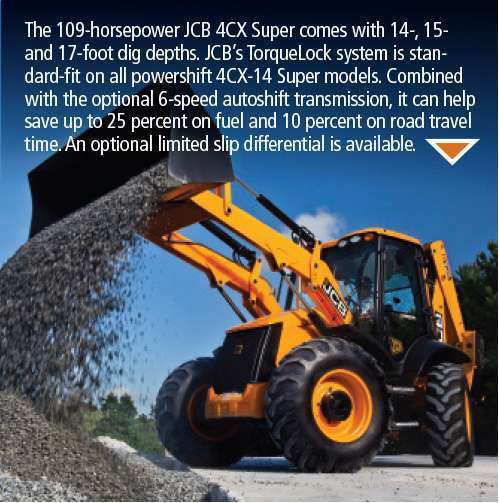 While JCB has also refined their full range of backhoes, they've put their emphasis on the smaller models, such as the 3CX Compact. JCB says the 13,380-pound 3CX Compact is about 35 percent smaller overall than a standard backhoe and has 2- and 4-wheel steering. Its small size and 4-wheel steering mode bring backhoe productivity to worksites once thought to require compact-machine maneuverability. "There are places where compact equipment is a better fit," says JCB product manager Diego Butzke, "which is the one reason JCB developed the 3CX Compact."
Jacobsmeyer says Kubota's family of compact backhoe models have dig depths from 7 to 14 feet and share full-size features such as ROPS and FOPS, four-wheel drive, and headlights and worklights. Other standard features include hydrostatic transmissions and an independent PTO.
Full complement of features
Most manufacturers include features across their full range, or at least make features available as options to most or all models. Dustin Adams, backhoe loader product specialist at Caterpillar, lists some of the features available in Cat's line of

backhoes and the benefits of those features: Security keypads require codes for the machine to operate, enhancing security and improving tracking. ECO (economy) mode maintains full performance while delivering meaningful fuel savings; a lock-up torque converter increases fuel savings further. An IT Coupler makes attachment change-outs quick and easy. A fully automatic transmission is a benefit at the worksite and is especially beneficial for roading.
And roading is one great benefit backhoes have over compact equipment. "The backhoe can achieve ground speeds in excess of 25 mph," says Adams, "allowing it to be transported on its own from jobsite to jobsite." When it is necessary to trailer a backhoe, most small to mid-size models can be transported by a driver without a CDL. Two compact machines on one trailer can easily exceed the weight threshold at which a CDL is required.
Regardless of size, backhoes have the features and versatility to make them the right choice in a wide range of applications.
Looking forward
Considering all this, how did compact machines ever intrude into backhoe sales? Part of it is that compact machines really do work better than backhoes in many instances. The evolution of the compact excavator and CTL, and the advancement of hydraulics on the compact excavator make them well-suited for many applications where backhoe loaders were commonly used.
Another factor is the commitment of OEMs to compact equipment. They've seen the sales acceleration and no OEM wants to be the one who missed that opportunity.
On the other hand, some manufacturers are doubling down on backhoes. "We will continue developing innovative backhoe features and new models, not just because it's our heritage, but also because we believe in the backhoe's value to the construction industry and we'll do everything we can to maintain and grow our market share." says JCB's Butzke.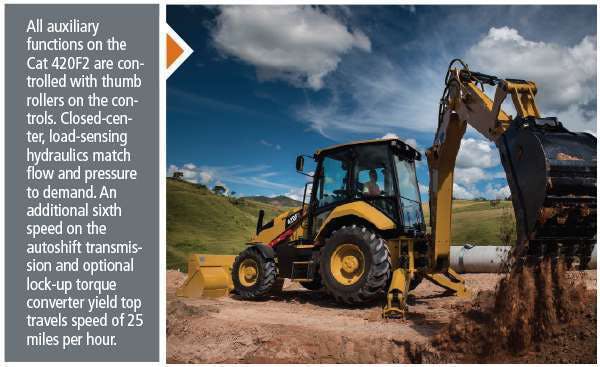 There will always be customers for whom the backhoe is the right choice, such as municipalities, utilities and cemeteries. And the backhoe's versatility will preserve its popularity in some markets. But even customers committed to backhoes can benefit by examining their business practices and fleet optimization goals, says Hennings. "Based on customers' needs and equipment mix, they may put fewer hours on their backhoes in a year, which allows them to hold onto their machines longer and slows the replacement cycle." Customers should also consider their planned length of ownership when deciding between purchase, lease, rent or rent/lease with a purchase option.
Owning and operating cost comparisons between the one-backhoe vs. two-compact machines approaches are tough, says Brenton. "Determining lifetime maintenance costs requires detailed analysis. Logic says two machines require twice as much labor and parts, but that's not true if each machine runs half as much as would one backhoe. Then there's the difference between tracks and tires; backhoe tires typically have longer service life and lower replacement costs than tracks and undercarriage components."
Brenton says training is another consideration. "It will likely take longer to train an inexperienced operator on a backhoe than a compact track loader, compact excavator or skid steer, since the backhoe has the functionality of two smaller machines."
Brenton sums up the market by saying, "We believe there will always be a place for backhoes in the construction industry. They aren't going anywhere."