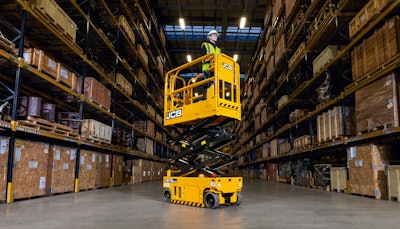 For the past two years, U.K.-based construction equipment manufacturer JCB has been quietly developing a lineup of powered access models and will enter the $8 billion market under the name JCB Access.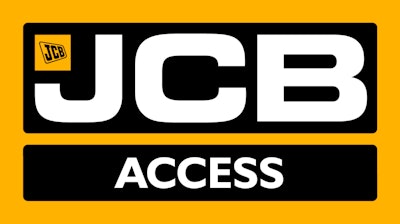 The division will introduce 27 new machines by the end of this year in the U.K., France, Germany and in North America. According to a JCB press release, those machines will include:
Nine electric and three diesel scissor lifts from 15 feet (4.6m) to 45 feet (13.8m)
Five articulating booms—four diesel and one electric—from 49 feet (14.9m) to 81 feet (24.6m)
10 diesel telescopic booms from 67 feet (20.6m) to 136 feet (41.6m)
All of the machines comply with standards from both the American National Standards Institute (ANSI) and the Canadian Standards Association (CSA).
"The access market is a truly global market and offers immense opportunities for growth for JCB," says JCB Chairman Lord Anthony Bamford. "It's a market that is ripe for a new supplier with the ability to offer industry leading, round-the clock-product support. JCB's 770 dealers with 2,200 depots can deliver the back-up that global customers expect."
The company says that as the machines were being designed and engineered in-house, the JCB dealer network has been undergoing sales and service training, noting that there is a "high degree of parts commonality between the three model ranges." JCB's LiveLink telematics services will be standard on all booms and will be available as on option on the scissor lifts.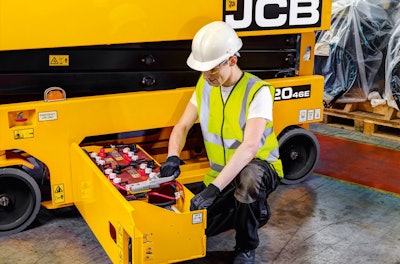 Specs
Though complete model information, including full specs and model numbers, is not yet available, JCB has released few key specs for each machine type it will introduce in 2017.
The company says that its scissor lifts weight between 2,932 and 7,420 pounds and have a rated basket capacity ranging from 500 to 1,212 pounds. Platforms on the two smallest models (the S1530E and the S1930E) measure 5.3 feet long by 2.5 feet wide. The larger scissor lifts have an 8.2-foot-long platform save for the largest model, the S4550E which has a 8.6-foot-long platform.
The electric scissor lifts are powered by four 6V or 12V batteries, with hydraulic drive. Three diesel models will be introduced later this year.
Four diesel-powered articulated booms will be released first in 2017, followed by an electric model in the third quarter, JCB says. The diesel booms will feature platform heights ranging from 49 feet to 81 feet and will be offered with four-wheel drive and two-wheel steer. The AJ50D is powered by a Perkins engine while the other three models use JCB by Kohler engines. All of the engines are Tier 4 Final compliant. JCB says these diesel models will deliver 40 percent gradeability and a maximum stowed driving speed up to 4 miles per hour. Load capacities range from 500 to 551 pounds.
The electric-powered AJ45E articulating boom will have a 45-foot platform height with two-wheel drive, two-wheel steering and up to 30 percent gradeability.
Throughout 2017, JCB will release models from its range of 10 diesel-powered telescopic booms. These machines will be powered by JCB by Kohler engines and will offer platform heights from 67 feet to 135 feet.