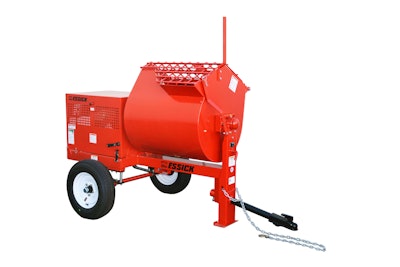 Multiquip used last week's World of Concrete to introduce three new products: a towable mixer, backpack concrete vibrator motor and chemical spray system. Here's a rundown:
MQ Essick 12CF towable mixer
This 12-cubic-foot plaster/mortar mixer uses a redesigned heavy duty steel tub to reduce material waste from paddle splash. The rectangular T-frame design lets operators discharge material easily into wheelbarrows and includes a forklift pocket to ease jobsite handling. A new vertical lock safely and automatically secures the tub when returned to the upright position. Rear stabilizers are available as options for high-production applications. A GX390 Honda engine is protected by a one-piece, 12-gauge steel engine cowling that swings open for service.
BPX backpack concrete vibrator motor
Weighing only 31 pounds, the BPX is designed for applications such as masonry backfill, footings and slab-on-grade pours. The frame has multiple adjustments to reduce operator fatigue and features breathable materials for additional comfort. A 2.1-horsepower Honda engine provides easy starting, and throttle control and start/stop functions are located on the shoulder straps for convenience. The BPX is interchangeable with Multiquip's flexible shaft line.
Whiteman chemical sprayers
The quipment,construction equipment,heavy equipment,cart-mounted system features an onboard compressor that enables contractors to quickly clear the lines, ensuring that solutions can be reused, which reduces product waste. The cart handles materials in drums up to 55 gallons, or up to four five-gallon buckets, and has a sloped platform to facilitate spraying. A hose rack accommodates up to 150 feet of hose. The WSC55BM is also available and can be mounted on top of a barrel. Both models are powered by a 5.5-horsepower Honda gas engine and use an 18-gpm pump.