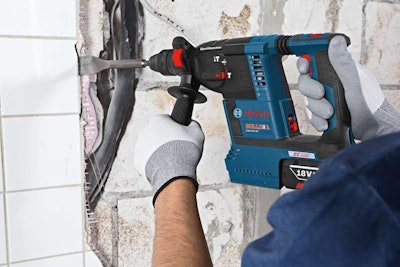 The battery wars are in full swing at the World of Concrete this year. Bosch's entry into this battle zone is its new Core18V battery, a lithium-ion model that delivers 80 percent more power than previous generations of battery, according to the company.
The Core18V battery's 10 high-density cells are laser welded and rail connected for high efficiency and low resistance. This CoolPack 2.0 system encases the batteries in a cradle that helps dissipate heat—the number one enemy of all lithium ion battery packs—and extend run time.
Owners of existing Bosch tools will be pleased to hear that the new Core18V batteries are 100 percent compatible with all 18-volt Bosch lithium-ion tools and chargers.
To take further advantage of the new battery's power and run time, Bosch gave its new GBH18V-26 1-inch SDS-plus EC rotary hammer a brushless motor that draws less current while putting more power into the tool and with a lower weight tool when combined with a Bosch 6.0 amp-hour 18V lithium-ion battery.
The unit generates 1.9 foot-pounds of torque but weighs only 7.7 pounds. A soft-start feature keeps the bit from skating or wandering during the initial engagement with the work surface.
An integrated dust extraction attachment (GDE 18V-16 Professional) has its own motor that draws power from the drill and with its HEPA filter provides protection from concrete dust and silica inhalation. The filter motor kicks in simultaneous with the start of the drill and continues running for two seconds after you let off the trigger.
Bosch's anti-kickback control employs an integrated acceleration sensor that instantly stops the drill's rotation when it gets stuck. This reduces potential arm and wrist injuries. The tool also uses Bosch vibration control for added user safety and ergonomics.
Two smaller cordless drills in Bosch's World of Concrete offerings include the DDH183 18V EC Brushless Brute Tough 1/2-inch Drill/Driver and the HDH183 18V EC Brushless Brute Tough 1/2-inch Hammer Drill/Driver pack.
Both models deliver 663 inch-pounds of torque and feature the anti-kickback control. Speeds range up to 2,100 rpm for high-speed operations to 480 rpm for high torque situations. A shortened nose makes it easier to work in confined spaces and an all-metal chuck puts extra grip on the bits.