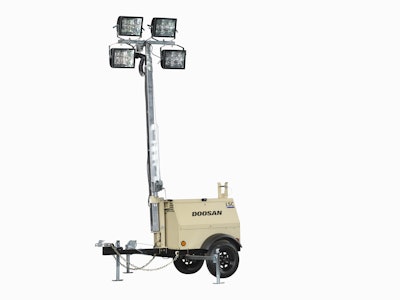 Doosan Portable Power is now offering light-emitting diode (LED) as a factory-installed option on its LSC, LS, L6 and L8 light tower models. The LED fixtures, which were launched at the 2017 World of Concrete, can also be added as aftermarket retrofit kit.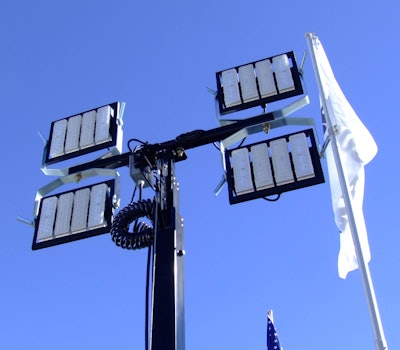 These fixtures are rated to perform at 50,000 hours, and the company says the LED lamps will not need to be replaced during the light tower's lifecycle.
Doosan says that while the LED fixtures cost more initially than the standard metal halide lights, they are 50 percent more fuel efficient, making "it possible for LED fixtures to deliver a return on investment within a handful of years."
These LED fixtures, the company adds, also offer instant-on and instant-off operation, compared to the 15 to 20 minutes needed for metal halide fixtures to reach full illumination and the time needed for cooldown prior to transport and storage.
By using less than 1 kilowatt of energy, the LED fixtures also leaves additional available auxiliary power for using electrical tools such as handheld drills and saws.