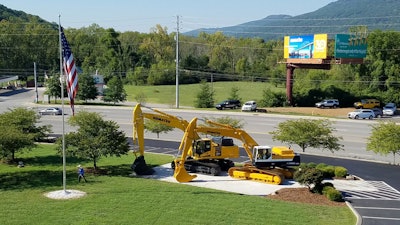 This week, Komatsu America is celebrating the 30th anniversary of U.S. machine production at its Chattanooga Manufacturing Operation in Tennessee.
The company kicked off the celebration Friday, September 23, with an event that hosted past and current executives, along with elected officials including Tennessee Sen. Bo Watson, Rep. Patsy Hazlewood and Hamilton County Mayor Jim Coppinger.
The Chattanooga plant was opened in February 1985 and is Komatsu's first U.S. plant. The facility currently employs 370 people and manufactures medium hydraulic excavators and forestry equipment.
One of Komatsu's global Technical Centers also calls the plant home, focusing on product design and development for bulldozers and forestry products.

"The Chattanooga Manufacturing Operation remains a role model for Komatsu overseas plants," Bruce Nelson, general manager of the Chattanooga plant, said in a statement. "Over the years, we have tested and implemented a number of ideas and technologies that were later adopted worldwide… The success of our plant would not have been possible without our terrific employees and the Chattanooga community. Several of our original hires are celebrating their 30th anniversaries with the company, and we are proud of how active Komatsu has become as a corporate citizen in Chattanooga. We plan to maintain that important connection going forward."
As part of the weeklong celebration, Komatsu is hosting public tours of the facility, which is located at 409 Signal Mountain Road. Through Thursday, September 29, 45-minute tours will begin at 1, 1:15 and 1:30 p.m. each day. Visitors must wear closed-toe shoes and no children under 11 are permitted. You can book a tour at this link.