Today's smaller trenchers muscle through whatever's thrown their way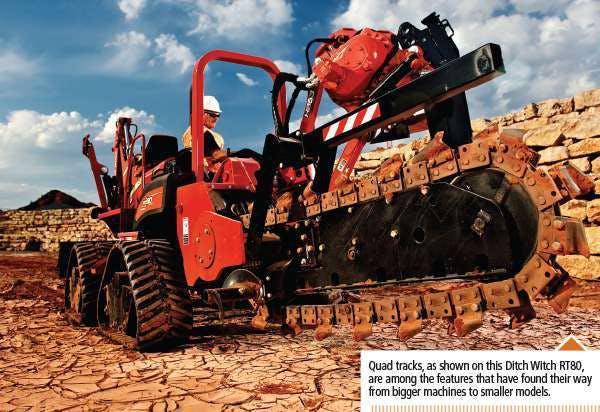 Trenching is often done in homogeneous soils, but for customers who contend with rocks, roots and other obstructions mixed in with soil, OEMs of ride-on trenchers of up to 75 horsepower are finding ways to improve the performance of their machines in these demanding conditions.
Toro's answer on the RT600 is the HD PowerTrench drive. This system stores power from a flywheel and then transfers that power to a torque-amplifying planetary system. The inertia from the flywheel helps maintain digging power when the chain hits an obstruction. In addition to reducing chain stalling, HD PowerTrench minimizes hydraulic spikes and driveline shocks. The result is more consistent trenching in varied conditions with reduced wear on the machine. Toro also offers a new hydrostatic direct drive trencher, a cost-effective design suitable for less-demanding conditions.
Standard on the Vermeer RTX550 and RTX750 is TrenchSense. If the chain gets hung up, TrenchSense reverses the chain and the ground drive and then returns to trenching. It will do this up to five times. If the obstacle is still stalling the chain, TrenchSense neutralizes the chain and the ground drive so the operator can reposition the machine beyond the problem spot.
Even typical soils free of major obstacles will vary in density, so the cruise control on the Ditch Witch RT80 senses engine load and adjusts ground speed accordingly.
Maneuverability in tight urban work zones is improved with 4-wheel steering, such as on the Ditch Witch RT80. The operator has independent control of the front and rear axles so steering can be front, rear, crab or coordinated.
Size considerations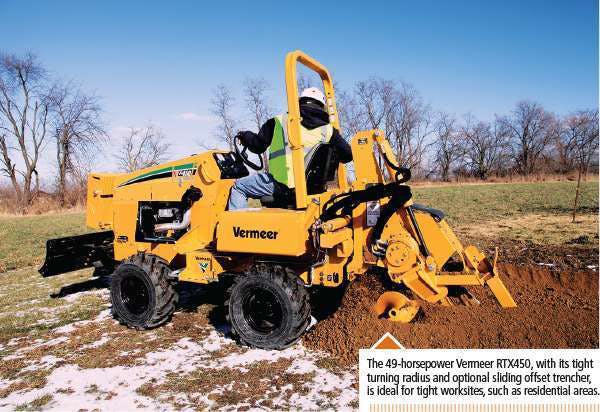 Features once reserved for larger trenchers, such as cabs and quad tracks, are finding their way into smaller machines. Market conditions have created a shift in standard features as well as a shift in where machines of a given size are used, according to Steve Seabolt of Ditch Witch. He says their RT80 used to be at the low end of the contractor market and their RT45 at the high end of the rental market. But both types of customers are buying RT45 trenchers now because their utilization rate is up with the strong demand for utility trenching, especially for fiber installation. The RT45 is something of a "gateway" trencher, though, as many RT45 owners move up to the RT80 to get increased stability, tractive effort and power.
Jon Kuyers of Vermeer says most customers are happy with the size of machines they currently own. He says the cost of Tier 4 Final compliance in machines above 75 horsepower contributes to customers' reluctance to go bigger. Besides, he says, there's a law of diminishing return up to about 120 horsepower, at which point further boosts in power equate with noticeable boosts in productivity. Advances in electronics and hydraulics mean smaller machines, such as the Vermeer RTX550 and RTX750, offer performance comparable to larger machines from just a few years ago. "The key is balancing the available horsepower between the ground drive and the attachment drive," he says.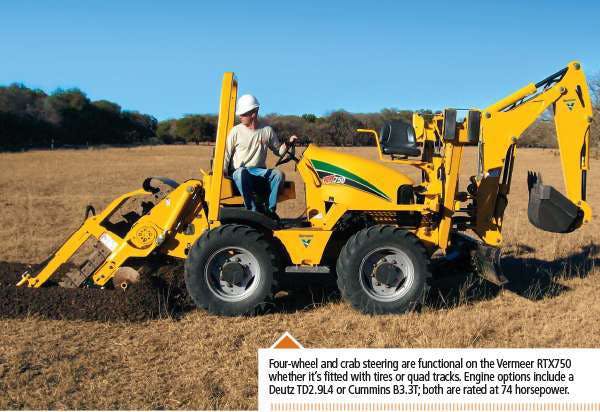 On these two models, the operator sets an engine speed zone and the machine adjusts drives as necessary to stay within that zone.
Just as there's little return in going with more power unless you go with a lot more, there's no real savings in going smaller, either, unless you go a lot smaller, says Seabolt. "It's hard to find smaller engines with the right power density and form factor and the economies of scale tail off as you move down the power range." For the smallest ride-on and virtually all walk-behind trenchers, smaller, lower-power engines are available and make sense. But a customer considering a 65- to 75-horsepower machine won't likely save much in owning and operating expenses with a 55-horsepower model.
The general trend, according to Josh Beddow of Toro, is to do more with smaller machines. "Contractors are looking for trenchers with smaller footprints, smaller engines, and less weight that will provide equal results on the same job at the same rate as a larger machine."
Prime mover
Beyond electronics and hydraulics, the critical strategy to capturing this big-machine performance from smaller machines is in the design and construction of ground-engaging tools. "While there has been slow-but-steady growth in trenchers," says Seabolt, "the growth in attachments has been very active. That's especially true with plows and microtrenchers." The RT80 is configured with combo attachments or to easily switch attachments.
On their RT600, Toro offers a combo mount system that allows both a trencher and a plow to be mounted to the machine at the same time. The system uses Toro's new direct-drive trencher and P85 plow. With the combo mount the operator always has the right tool to match installation requirements.
Toro also offers an offset slider to allow trenching near walls and other structures. The trencher can be centered on the machine or moved to the right up to 29.75 inches. In its farthest-right position, the trencher is at the centerline of the right rear tire.
Choosing well
We asked our experts for their single best piece of advice in selecting a trencher. "Understand all the options," says Beddow. "There are trencher attachments for compact and skid steer loaders. There are heavy-duty, dedicated trenchers. Most applications require something between those two extremes." He cites the Toro RT600 as the just-right machine for a wide range of applications.
Seabolt says the performance fundamentals of machines in a given size category will be comparable, so examine the features that differentiate models. "Operator comfort, controls and ergonomics can be very different from one machine to another, as can service access. And be sure your dealership can provide the product support and quality service you need to remain productive."
Kuyers says the key is to fully understand the customer's application. "For a 5-foot trench in open terrain, it all comes down to horsepower to achieve maximum production. Then come other machine factors, such as traction, flotation, turf disturbance, available attachments, and so on." He says winter operation requires additional horsepower to break frozen ground and tracks to provide flotation and tractive effort during freeze-thaw cycles.