Ditch Witch has introduced a new lineup of backreamers designed for specialized soil conditions and installations.
The new models include the Sandhog HD, Swab and EZ backreamers, and are designed to for tasks such as enabling horizontal directional drilling crews to pre-clean a path or quickly connect to a rig, says Jeff Davis, Ditch Witch's HDD tooling and drill pipe production manager.
Sandhog HD

Available in 2 3/4-inch shaft size with 2.0 IF threads, and 3 1/4-inch shaft with 2 3/8 API threads, and ranging in diameter from 8 to 18 inches, the Sandhog HD is designed for sandy and soft soils.
Ditch Witch says that though soil conditions can often cause bore paths to collapse or fill with material, this triple-action backreamer uses its barel-shaped body to sculpt a "true-to-size" bore path and provides more efficient pullback using carbide cutting teeth and spiral plates to aggressively cut, mix and pack.
The Sandhog is compatible with Ditch Witch HDD rigs including the JT9, JT20, JT25 and JT30.
Swab
The Swab, available in a 3 1/4-inch shaft with a 2.77 male thread size, and for a diameter of 5 1/2-inches, is specifically designed for rocky and hard soils and enables direct pullback on the Ditch Witch JT30 All Terrain HDD.
The Swab pre-cleans a bore path utilizing fluid flow and its carbide hard surface in order to prevent material left in a bore from damaging product when deployed in restricted spaces. This material removal also helps install product without enlarging the path beyond the pilot size.
EZ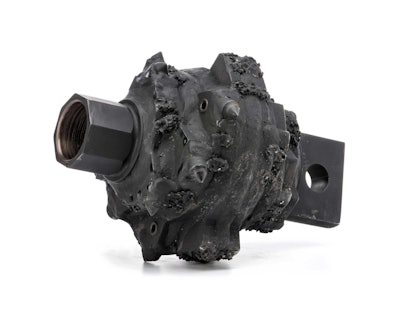 The EZ backreamer is available in a 3 1/4-inch shaft size with an EZ2 and EZ3 connection, ranging in diameter from 6 to 8 inches. This model is designed for direct connection to the EZ connect assembly in small-diameter installation jobs. Equipped for use in soft to medium-hard soil conditions, it allows operators to quickly change out tooling.
The EZ is compatible with the JT20, JT25 and JT30 HDDs.