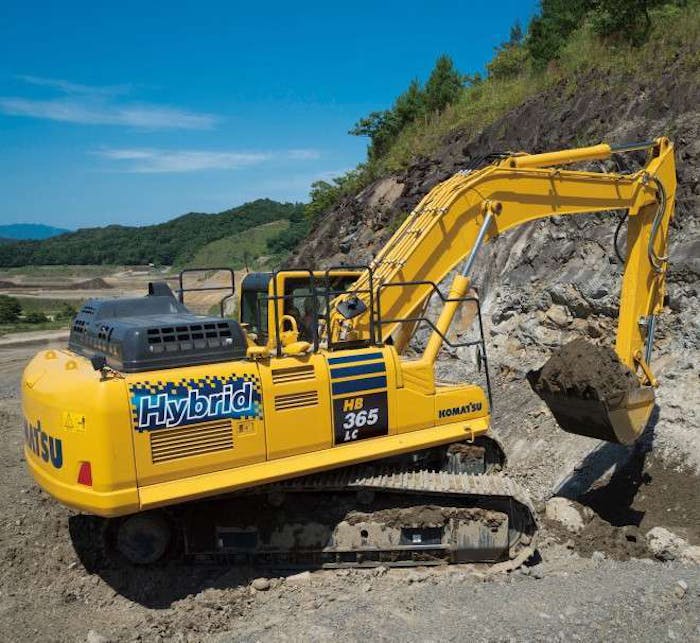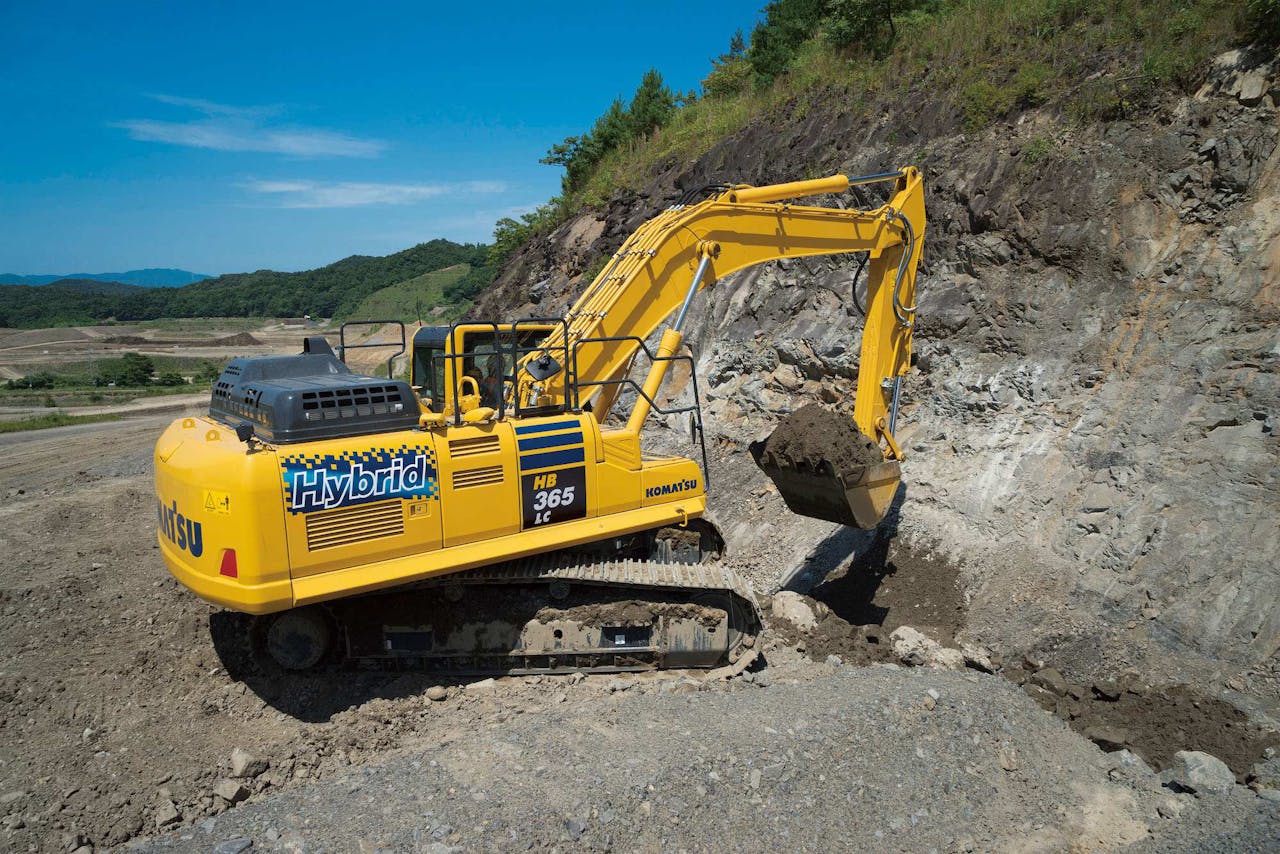 Komatsu's European leadership used the Bauma trade show last week to introduce its latest hybrid excavator, the 36-ton-class, 271-horsepower HB365LC-3. The company also updated the report it gave last year at Intermat on its intelligent machine population.
The 80,000- to 82,342-pound HB365LC-3 follows the HB215LC-2 hybrid introduced at ConExpo in 2014.  (North American Komatsu executives tell us: "There is a future for the 30-ton hybrid excavator in North America, but the machine's focus will be on production gains. The fuel efficiency benefits will be an added bonus.")  Compared to the standard PC360LC-11, Komatsu says the hybrid delivers a 20 percent fuel savings, verified by telematics on machines working in Japan since February.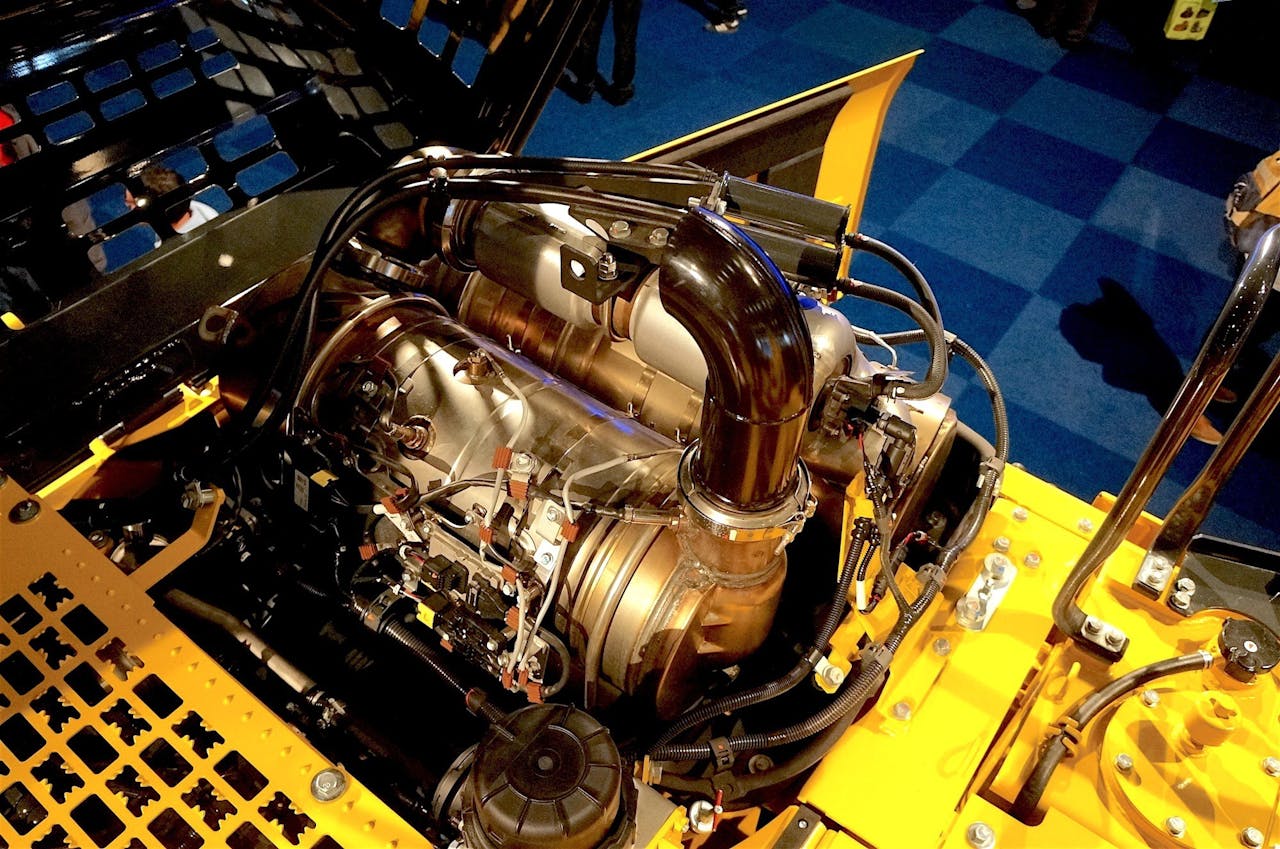 In addition, the company says it now has a total of 10 million hours of operation on hybrid machines since they were first introduced in 2008 (this is the same figure the company reported last year at Intermat). There are now more than 3,700 hybrid units working worldwide, with 123 of these machines working in North America.
"It's a well-tested machine," said Mas Morishita, managing director and CEO, Komatsu Europe International, "which gave us the confidence to bring out the 36-ton unit."
The new HB365LC-3 uses the same Komatsu SAA6D114E-6 engine as used on the conventional PC360LC-11, with an additional 53 kilowatts of extra electric power supplied by the Komatsu Hybrid system. The kinetic energy generated during the swing-braking phase is converted to electricity, which is sent through an inverter and captured by the Komatsu Ultra Capacitor. When accelerating under load, the captured energy is discharged for upper structure rotation, assisting the engine.
The machine also has proportional control joysticks, a standard heated high back air suspension seat and a high-resolution 7-inch LCD widescreen color monitor. As introduced at Bauma, the hybrid components of the HB365LC-3 are covered by a 5-year or 10,000-hour special warranty.
Moroshita also said Komatsu has sold more than 2,450 machines with its intelligent machine technology, including several dozers and one excavator, the PC201LCi-10. This represents the culmination of 14 years of development, three years' experience and 1.7 million hours in the field.
Komatsu also showcased its PC7000 shovel, saying it was the largest shovel ever to be shown at the show. Four units of the mining shovel have been sold to date, including one in Canada.