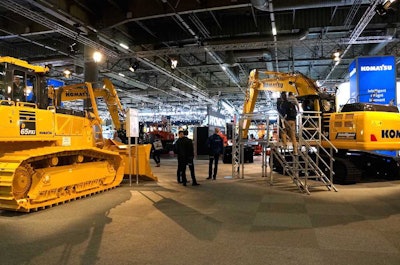 Komatsu's intelligent machine initiative, now well into its second year, was top of mind during at Intermat presentation from Komatsu Europe executives at Intermat today. The company also reported on its hybrid excavator population, and the fuel savings realized from the machines it first introduced five years ago.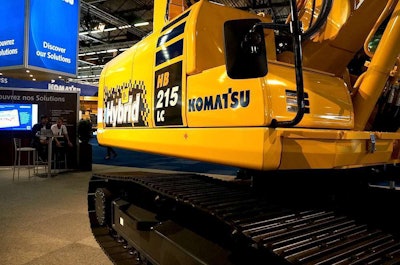 The company now has six intelligent dozer models sold in North America; the newest being the D155AXi-8 introduced earlier this month. There's a global population of more than 600 units. And since its introduction late last year, more than 100 PC210LCi-10 intelligent excavators have been sold.
Komatsu also shared numbers on their hybrid excavators, which now have a machine population of 3,200 units that have accumulated 10 million hours.
The third generation HB215LC-2 hybrid was introduced at ConExpo last year, featuring a system that converts kinetic energy generated during the swing-braking phase of the machine's cycle into electricity.
According to the company, compared with the Komatsu PC210LC-8, the hybrid HB215LC-2 shows a 30-percent fuel consumption reduction. Compared with the PC210LC-10, the hybrid shows a 20 percent fuel reduction and a 5-percent reduction compared with the last iteration of the hybrid, the HB215LC-1.
"And there are more hybrid excavators under development,' says Keiko Fujiwara, managing director, Komatsu Europe, although declining to give further details except they would be introduced within the next two years. "Oil prices go up and down," Fujiwara says, "but current environmental protection requirements will continue, so our hybrid development has not been affected."