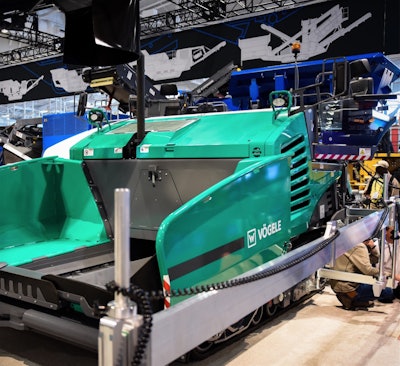 Continuing a trend among the several machine announcements we've seen at this year's World of Concrete show, Vögele introduced a machine to the North American market with heavy European influences.
Like Roadtec's new BF400, a machine that's been in Germany for years, or Volvo CE's new compactor design seen on the DD105, Vögele's new Super 2000-3i asphalt paver features Euro styling. It is the first of four new Super lineup pavers Vögele is set to introduce.
"It has the look of a German paver but with North American functionality," says parent company Wirtgen's Bruce Monical.
The Super 2000-3i features a basic width of 10 feet and a maximum paving width of 28 feet. Designed primarily for highway construction and large scale commercial applications, top placement rate is 1,540 tph.
The machine is powered by a 6-cylinder, Tier 4 Final Cummins QSB6.7-C250 engine rated at 250 horsepower. A new ECO mode lowers fuel consumption with 234 hp still at the paver's disposal.
Operators will find a new console mounting system making left and right shifts of the console on the operator's stand easier. Vögele's Niveltronic Plus Leveling System handles automatic grade and slope control and the machine features the new ErgoPlus 3 operating system complemented by a large color display.
Paver controls are "clustered in logical groups," Vögele says, and buttons on the ErgoPlus3 console are easily identifiable by touch, even when wearing work gloves.
The ErgoPlus 3 operating consoles were completely redesigned for this machine. Two remote controls for each side of the paver can be used as well.
Vögele's VF 600, VR 600 and AB 600 TV screeds can be mounted to the Super 2000-3i:
The VF 600 screed, which utilizes unequal-width front-mounted extensions for multivariable width applications, has a maximum paving width of 25 ft. and 6 in. (7.75 m) with bolt-on extensions.
The VR 600 screed has rear-mounted extensions for main line applications, providing maximum paving width of 28 ft. (8.6 m) with bolt-on extensions.
And the AB 600 TV screed, with rear-mounted extensions, achieves higher compaction thanks to integrated vibration and tamper. The screed well suited for placing cold RAP for roadbase, or difficult polymer modified asphalts. Its maximum paving width is 27 ft. 11 in. (8.5 m) with bolt-on extensions. The AB 600 TV extending screed is equipped with both a vibration system and tamper, meaning it can achieve higher compaction and faster densities attained right out of the paver.
Electric screed heating is standard on the paver and typical heat-up time is 20 minutes.