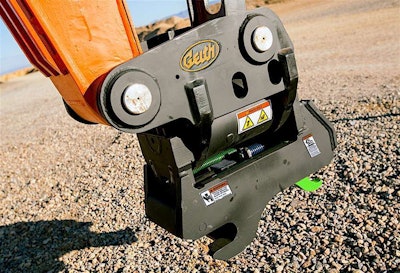 Designed for excavators and backhoes weighing between 6 and 26 tons, the Geith tilting quick coupler offers up to 180 degrees of side-to-side rotation, depending on the model.
"This gives users the ability to easily perform tasks, such as clean ditches, without repositioning the machine," says Paul Shevlin with Geith, speaking to Equipment World at the recent World of Concrete show in Las Vegas.
The coupler has four independent locking components, and complies with the proposed ISO/DIS 13031 quick coupler safety standard.
In the event of an improper rear pin connection, the front lock retains the attachment; if there's a loss of hydraulic power, the rear lock and mechanical spring system retain the attachment in a working position. Unlike gravity-type systems, the front and rear spring-retained locks maintain high functionality, even in severe and dirty environment, Geith says.
Additional safety features include a curved engaging plate and a hydraulic cylinder check valve; in addition, a "curl to release" control system provides a safe process for attachment engagement and release.
Using a variable pin center, operators using the coupler can change attachments while in the cab of the machine. They can also use a reverse bucket orientation, which can be effective when working in confined spaces.