Here at World of Concrete in Las Vegas, Bobcat has introduced the S595 skid steer, designed for contractors looking for more performance in a smaller package. The 74-horsepower vertical-lift-path loader has a 2,200-pound rated operating capacity, the highest in the company's 500-series loaders.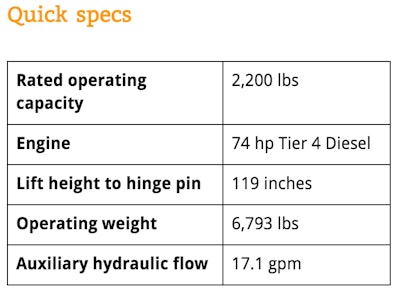 "We focused on performance features, giving the loader a standard two-speed travel with a top speed of 11 mph," says Eric Dahl with Bobcat. Operators can choose between low and high travel speeds, switching between the two with a press of a button.
A suspension seat comes standard, offering more operator comfort at the higher speeds. The loader's pressurized cab has a one-piece seal that goes all the way around the door, fitting into a curved pocket, and minimizing the amount of dirt and dust entering the cab.
Operators can choose between three types of controls: standard, Advanced Control System and Selectable Joystick Controls.
To notice the differences between the S630 and S595 skid steers by just examining the outside of the machines you'd have to come armed with a tape measure; the S595 is 6 inches narrower than the S630, coming in at 66 inches wide. There's also a significant difference in weight, with the S595 weighing 1,300 pounds less than the S630.
The S595 has an auxiliary hydraulic quick coupler mounted directly to the front plate of the lift arm, with a guard bar that extends in front of the quick coupler for added protection. Options include high-flow hydraulics and the Power Bob-Tach attachment mounting system, which allows operators to change non-hydraulic attachments without leaving the cab.