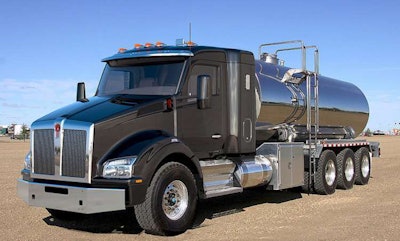 A 40-inch sleeper option is now available on the T880, Kenworth's flagship work truck.
The 40-inch sleeper provides a compact, yet comfortable sleeping environment with plenty of storage, saving 260 pounds over the company's 52-inch sleeper. And to help cover body builder equipment for all applications, the sleeper's height—from the bottom of the frame rails to the rooftop—is nearly 17 inches shorter than the 52-inch and 76-inch mid-roof sleepers.
A variety of components can be mounted on the roof, including a sunvisor, LED marker lights, spot and strobe lights, air horns, plus Qualcomm, PeopleNet, andKenworth TruckTech+ remote diagnostic antennas.
The compact sleeper features a 24-inch liftable bunk that tilts 90 degrees for easy access to storage. Two toolbox doors and coat hooks designed to hold both hard hats and coats are included, while three windows are available options for the back of the sleeper.
Equipped with the sleeper, the already-comfortable T880 boasts 22 cubic feet of storage space. The truck went into production in late 2013 and replaced the T800.
The T880 features a wider cab than its predecessor that is quiet and outfitted similarly to a luxury automobile or deluxe pickup truck, according to our own Tom Jackson who spent some time with the truck around this time last year. You can read his full impressions here.