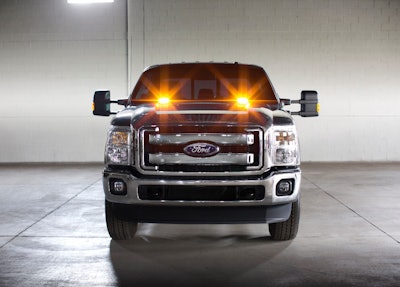 [imagebrowser id=251]
For those who need their 2016 Super Duty to be a bit more visible, whether it be on busy jobsites or on highway work zones, Ford is now offering a factory-installed strobe warning LED light kit.
The kit will be an option on all F-Series Super Duty pickups and chassis cabs for $700. The LEDs shine behind amber lenses and can be seen up to 1,000 feet away during the day and up to a mile away at night.
Ford says the lights meet all applicable government regulations.
No drilling is required in the installation of the kit, instead using brackets to attach to the rear of the truck's hood and to the brake light. You can choose one of the four auxiliary switches on the Super Duty dash to operate them.
The lights fall under a warranty and Ford says that unlike aftermarket kits, they're not susceptible to corrosion issues.
You can see the kit in action performing a bit of morse code, in the video below.