For those excavating and grading projects where you need a bit more capacity than the standard bucket, Doosan has introduced heavy-duty ditching buckets for all of its crawler excavators.
Though it features the same profile as a standard digging bucket, the heavy-duty ditching bucket is wider and moves more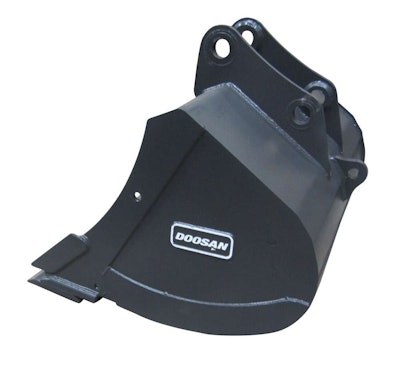 dirt per cycle. Boosting that capacity and efficiency even further is the fact that the bucket is free of internal center gussets found on other ditching buckets.
Doosan says the bucket saves time and money when loading material, grading, backfilling, cleaning ditches for improved drainage and working on slopes.
The bucket also includes a lift eye, weld-on side cutters and a reversible bolt-on cutting edge for a smooth finish.
Thirteen heavy-duty ditching buckets are available in pin-on models or those that can be fit to hydraulic or wedge-lock quick couplers. Speaking of, Doosan also recently announced wedge lock clamps designed to work with a range of buckets.