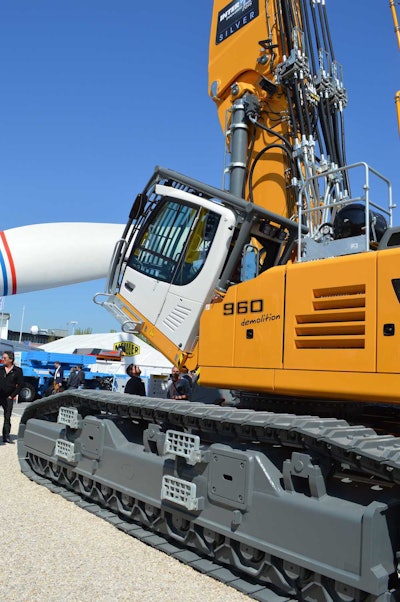 [imagebrowser id=248]
Liebherr's machines towered into the sky at their outdoor booth at Intermat this week. The company's vertical orientation showcased a number of innovative tower cranes, material handlers and high-reach demolition machines. The lineup includes:
710HC-L luffing jib crane
The 710HC-L luffing jib crane puts Liebherr into a new size class with 50-ton and 64-ton models. According to the company, there are two of these machines headed for New York City now and will be installed for a project near Times Square. The 710HC-L is a unique design. Rather than hang the counterweights off the back, they are built into the crane, freeing up slewing space. The crane has hook speeds of up to 218 meters per minute and a 305 horsepower (228 kW) engine. A slender tower design gives it high rigidity values and hook heights up to 78.4 meters.
LTC 1050-3.1 compact mobile crane
When Liebherr rigged this crane with a new Tier 4 Final engine they also made several improvements to the previous design (the 1045-3.1 model) including a boost up to a lifting capacity of 50 tons. An optional lift cab can take the crane operator to an eye level of 7.8 meters. The three-axle machine has a gross weight of 36 tons and an axle weight of 12 tons each, which includes the 6.5 ton counterweight and the double folding jib. The telescoping boom reaches out to 36 meters and the lattice jib bumps that up an additional 13 meters. A 348 horsepower (260 kW) engine powers the crane which can read road speeds up to 50 mph (80 kpm).
R960 demolition machine
The R960 demolition machine is so new they didn't have a photo of it and so big it took us two photos to get it all in, which you can see in the gallery above. It comes in two boom lengths of 38 and 34 meters and offers a maximum operating weight of 9.3 tons. With its 326 horsepower (240 kW) engine it can power hammers and crusher attachments up to 3.5 tons in weight. Liebherr's demolition control system places information about the machine's tilt angle and tool position in the operator's field of view.
LH 30 M material handler
The LH 30 M material handler uses intelligent machine controls and sensitive hydraulics to improve scrap and material handling efficiency. The multi-tine grapple has a capacity of 0.40 to 0.60 square meters, a sorting grapple capacity of 0.75 to 1.15 square meters and a wood grapple capacity of 1 to 1.9 square meters. With it's 190 horsepower (140 kW) engine, the LH 30 M weighs 26,500 to 29,100 kg.