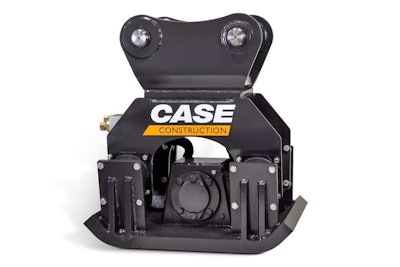 Five new plate compactors now available from Case Construction Equipment have been designed for foundation compaction in shallow trenches, with a size range from 19 inches x 20 inches up to 32 inches x 42 inches. The new line is dubbed the SC series.
The shock mounts on the SC series have a 15-degree outward tilt, which the company says provides "better force distribution across the plat, less stress on the compactor during operation, and reduced wear." The compactors have what Case calls an "Angle Technology" base plate design, which engineers created to dissipate "vibratory forces" in a more efficient manner to cut down on wear and tear on the compactor and carrier.
The flow control on the plates also features a standard reverse flow check valve and stainless steel pressure relief valve. Case says the lineup requires no maintenance due to its continuous oil bath lubrication system.
The new models include the SC-30, SC-60, SC80, SC-110 and SC-220 and can be used with the newly launched D series crawler excavators.