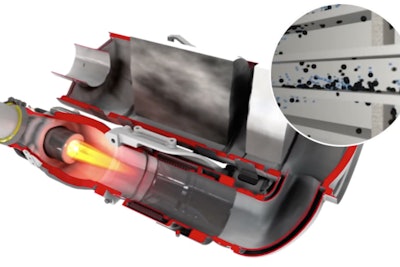 British engine manufacturer Perkins, is meeting with customers and media although not exhibiting at Intermat this year. At least not in the conventional sense.
Perkins has created a "virtual" stand or booth for the show that demonstrates all their products and technology. So even if you don't make the jump over the pond to Paris this week, you can check out the company's diesel lineup here.
We did get a chance however to talk with Oliver Lythgoe, product concept marketing for the company, about the world-wide engine market, and what some are calling Tier 5 (in the United States) or Stage 5 in Europe.
The Tier 5/Stage 5 emissions regulations, won't be a huge change from the current level of technology, Tier 4 Final, and none of it has been written into law, either in Europe or the United States, says Lythgoe. But it only makes sense for engine manufacturers to begin preparing for what will probably become written into the laws in 2016, and required by law by 2019, he says.
What is being proposed is a reduction in the numbers of fine particles in diesel exhaust. Current Tier 4 Final regulations only restrict the mass of particles, which can be large or small. But it is the small particles that health authorities think pose the greatest threat to one's lungs. The bottom line is that some sort of additional particle filter will probably be added to machines.
This may replace or supplement the diesel particulate filters now used on many larger engines (above 75 horsepower), or the diesel oxidation catalysts in use on many lower horsepower engines. Most manufacturers will have a solution on the shelf, ready to go, once the regulations and timelines are announced, says Lythgoe. So the changes won't be as disruptive as the addition of DPFs, DOCs and selective catalytic reduction that happened with the change from Tier 3 to Tier 4 Final.
In other news Perkins announced that the manufacturing of it's popular 2.2 liter, 400 series engine will move to the company's Griffin, Georgia factory. The 404F-E22TA engine, which was announced at Bauma, China last year is the first to offer common rain direct injection and full authority electronics in its size class. The technology will offer OEMs greater flexibility in tailoring the engine to specific applications and use an engine with a smaller footprint in applications where traditional engines up to 2.9 liters have been common.
The new model retains many of the popular of the 400 Series and has gained addition of a common rail fuel system and full authority electronics. This will boost performance and allow OEMs greater flexibility in tailoring the engine to specific applications according to the company. It also allows OEMs to use a smaller displacement engine in machines where traditionally engines up to 2.9 liters may have been the norm.
Performance from the 404F-E22TA has been boosted to 67 hp. There is also a turbocharged, non-aftercooled model, offering up to 36 kW (48 hp).