[imagebrowser id=237]
Using the Intermat show here in Paris as the stage for the machine's first public appearance, LiuGong debuted the 856H, a wheel loader that represents one of the Chinese equipment manufacturer's most substantial design undertakings to date, as it worked to ensure the machine met European emissions standards.
And though LiuGong fittingly framed the machine's announcement with how its design was "tailored" for the European market (we are in France, after all) the machine also meets the EPA's Tier 4 Final standards in the U.S. and will see a stateside launch in the fourth quarter of 2015, said LiuGong branding and communications director Stacie Adams.
The new loader is powered by a Cummins QSB6.7 pushing 225 horsepower at 2,200 rpm and featuring a high pressure common rail fuel injection system for optimized fuel consumption along with a variable geometry turbocharger. The engine is paired with a ZF 4WG200 automatic shift transmission with kick down function. You can see the full machine specs in the chart below.
LiuGong says the machine carrying capacity has been improved by 40 percent over the previous model thanks to a redesigned and reinforced axle housing and main transmission system. The changes have also increased the average life cycle of the machine 250 percent.
Design of the new machine started with customer feedback on previous models, LiuGong said, and nowhere is that seen better than in the 856H's new 8-sided cab.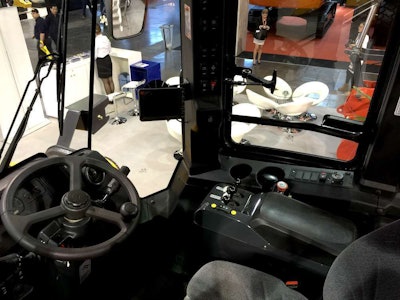 Better visibility is the headline feature of the new operator's station thanks to nearly-seamless transitions between glass panels, a lowered console giving a better sight line to the front and an additional window which adds visibility on the sides and corners.
David Beatenbough, LiuGong VP of machinery research and development, said the cab is one of the machine's widest and added that the air conditioning unit capacity has been increased by one-third.
Beaten bough added the 856H is the company's first to feature LiuGong DNA, a new set of visual cues that will begin appearing in the company's other machines in the coming months.
The machine also features a redesigned electrical system with all fuse relays located inside the cab an accessible without tools, Beatenbough said. The cooling system has also been redesigned with parallel coolers to increase efficiency. Beatenbough said the change has also reduced cab noise.
Daily maintenance points on the machine are accessible from the ground and the loader features a tilting engine hood.