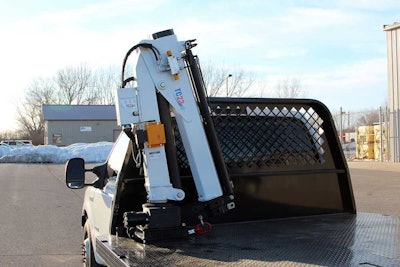 With a small installed footprint but a large extended reach, Stellar's new TC series of hydraulic cranes offer service truck operators lots of lift capability without hogging space in the truck bed.
A tall mast telescoping design, the TC series offers up to 18.6 feet of hydraulic reach. These "T-boom" type of cranes have traditionally used manual control valves, requiring the operator to be near or under a load, but Stellar designed the new cranes to operate with a hand held, proportional radio remote transmitter.
This allows the operator to stay at a safe distance or position himself for better sightlines to the work. Should the operator overload the crane the hand held unit will give a warning with lights and vibrating pulses.
A PTO and pump on the truck chassis power the cranes. There are four models in the lineup and they range in capacity from 2,400 up to 4,500 pounds. Hydraulic reach extends from 8.75 feet to 19.68 feet.