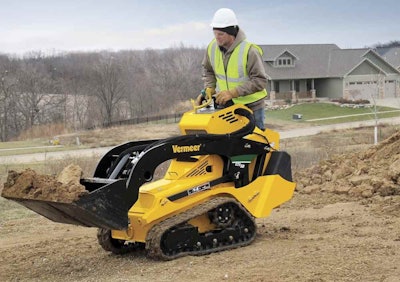 Designed with the rental market in mind, Vermeer's CTX50 mini skid steer has vertical lift arms that allow the machine to lift more than radial lift units of the same size.
The CTX50 has a 600-pound rated operating capacity with a 1,715-pound tipping capacity. Because the lift path keeps the load closer to the machine, the CTX50 also has a high lift height of 72 inches.
The machine has a 25-horsepower Kohler Command PRO electronic fuel injected gas engine and a 4-pump hydraulic system. Two of the pumps power the track drive motors and two provide flow to the loader arms and auxiliary hydraulic functions, enabling the machine to be more productive than units with fewer pumps.
Additional features include an enhanced operator's station with a single pilot-operated joystick for smooth operation, 7-inch rubber tracks, a high-mounted track sprocket design that keeps the sprocket out of the dirt and a stand-on platform that provides optimal viewing of attachments during operation.
A universal attachment plate ensures quick changes.