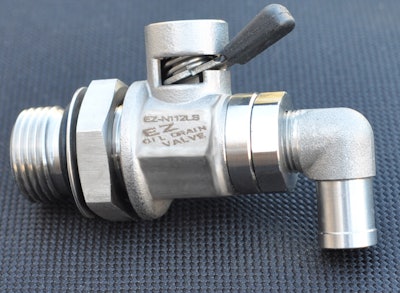 EZ Oil Drain Valves are a great way to simplify oil changes and sampling. Now the company has come up with a product that drains diesel exhaust fluid (DEF) tanks and eliminates spillage that may contaminate other parts of your engine.
The SS version of the EZ Oil Drain valve is made from stainless steel which is impervious to DEF's corrosive properties. It uses a ball valve design and comes in a variety of thread sizes.
A lock nut allows the final position of the value to be oriented exactly where you want it and a hose can be attached to the end of the valve to prevent spills.
You can find where to buy the valves on the EZ Oil Drain website by clicking here.