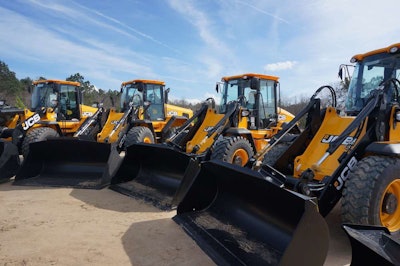 [imagebrowser id=209]
Despite the thousands upon thousands of engineering hours that go into developing a powerful diesel engine that is also clean enough to meet emissions standards, when it comes to Tier 4 engines, JCB sales manager for wheel loaders Pete Gallagher said he has no delusions about how many customers feel about these types of machine upgrades.
"There's a lot of customers who just don't care about it," Gallagher said Thursday during a press event at the company's North American headquarters in Savannah, Georgia.
So when it came time to update the company's largest wheel loader, the 457, with a Tier 4 Final engine, Gallagher said the company made it a point to make the upgrade worth their customers' money with an overhaul of the machine's interior. Last year, JCB unveiled the new 457 with what it calls the CommandPlus cab.
And on Thursday, Gallagher said customers of four of the company's smaller wheel loaders can expect to see the CommandPlus accompany Tier 4 Final upgrades by the end of this year.
The new ROPS structure, which has A pillars moved out to the same width as the rear of the cab, providing a larger interior with a panoramic front windshield, will come to the 437, 427, 417 and 411 loaders, Gallagher said.
You can check out that panoramic view by clicking through the gallery above.