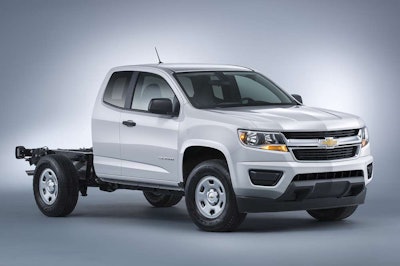 Just in case you were wondering how serious or invested General Motors is in its new midsize pickups, the answer is, pretty darn serious.
By the time GM had unveiled the 2015 Chevrolet Colorado and GMC Canyon, the automaker was talking up these trucks' capability just as much as their fuel efficiency. And when they launched earlier this year, they did so as the most powerful (and most fuel efficient) trucks in the midsize segment. GM event went as far as saying they could handle 95 percent of the work their full-size trucks can.
Now, GM is taking it a step further and has announced at the Work Truck Show in Indianapolis that it will soon begin offering a box delete option on the Colorado. That makes it the first midsize truck to give business owners the ability to tailor a small pickup to their needs.
The option is available on Colorado Work Truck 2WD extended cab models and is offered only with the 305-horsepower 3.6L V-6 engine and six-speed automatic transmission. You can even get rid of the truck's rear seat to maximize your cargo space. (Chevy says this is also an option for those who don't forego the bed.)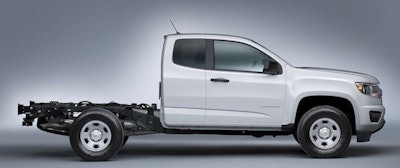 So, if you're confident in the Colorado's 305 hp, and you love those fuel economy numbers, this could make for quite the penny-pinching work truck.
Other features of the box delete model include:
2,200-pound payload rating
6,001-pound gross vehicle weight rating (GVWR)
Temporary taillamps installed on the rear of the frame
Rear bumper deleted
Full-size spare tire included
Eight body mount provisions (four per frame rail)
Standard fuel filler position. Optional BJA-code service body fuel filler will be available and shipped loose in the cab for upfitter installation
Z82 trailering package
G80 locking differential.