Hitachi has designed the new ZX300LC-6 excavator with a variety of applications in mind, including site development and roadbuilding jobs. With a 32-percent increase in engine horsepower compared to the model it replaces, the ZX290LC-5, the 249-horsepower ZX300LC-6 has an operating weight of 64,375 pounds, a dig depth of 25.10 feet and a dig reach of 37 feet.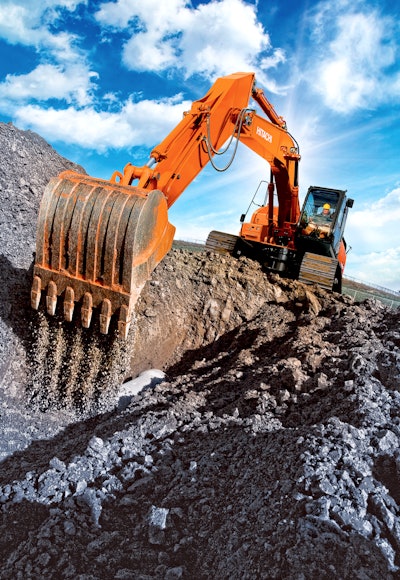 The excavator also has larger, more durable hydraulic pumps that provide a greater lift capacity and increased swing torque. The heavier operating weight, combined with a redesigned boom and arm, allow for maximum efficiency through the use of a larger bucket.
The hydraulic boost system and enhanced boom recirculation improve boom and arm speed, allowing the operator to return the arm to dig faster.
The Tier 4 Final engine uses cooled exhaust gas recirculation, a diesel oxidation catalyst and selective catalytic reduction for a simple and efficient system. Diesel exhaust fluid is injected into the exhaust stream of the engine, runs through the catalyst and converts the NOx into harmless water vapor and nitrogen gas.
The excavator's improved piston design allows the particulate matter to be burned in cylinder, so there's no need for a diesel particulate filter.
Durability is achieved through D-channel side frames that house and protect the coolers and engine. Large idlers, rollers and strutted track links ensure long life for the sealed and lubricated undercarriage. The boom, arm and mainframe are warranted for three years or 10,000 hours.
Operator comforts have been addressed with a spacious cab that features a silicone-filled cab mount that isolates the operator from noise and vibration. Additional cab features include a wide entryway, adjustable high-back sculpted seat, unobstructed visibility and generous legroom.
Added handrails provide easy engine access, and grouped service points, easy-to-check sight gauges and fluid reservoirs, quick-change remote mounted filters and convenient fluid sample ports simplify preventive maintenance and reduce downtime. The engine and hydraulic oil feature 500- and 5,000-hour service intervals, respectively.