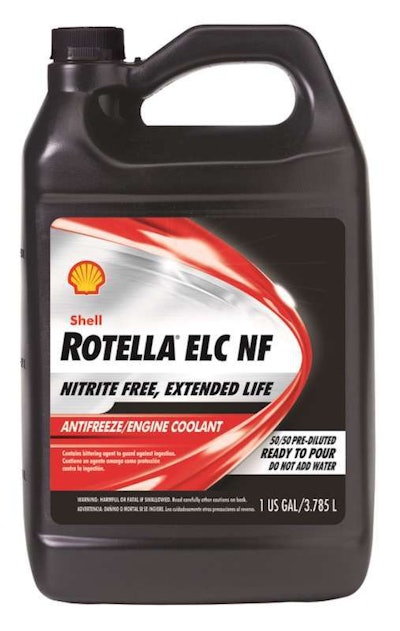 Modern diesel engines run hotter, no getting around it. To help these emissions-compliant engines keep cool, Shell Lubricants has introduced a new nitrite free coolant, Rotella ELC-NF.
The "ELC" in the product name stands for extended life coolant and the formula is designed to last for 600,000 on-highway miles or 12,000 hours in commercial applications. And this is without SCAs or supplemental coolant additives.
Shell says additional mileage may be possible with coolant monitoring. Thanks to their nitrite-free chemistry, extended life coolants reduce water pump failures, hard-water scale deposits and silicate gel.
Shell Rotella ELC-NF can be used in passenger cars and light duty trucks, as medium and heavy duty trucks, diesel and gasoline engines, as well as LNG and natural-gas powered vehicles. The nitrite free formulation better protects aluminum heat exchangers, guards against cylinder liner cavitation and extends the life of water pumps, radiators and other cooling system components.
The coolant meets industry required ASTM D3306, D4985 and D6210 and TMCRP 329 and RP 364 requirements. For off-road engines the company suggests you contact your Shell technical representative.