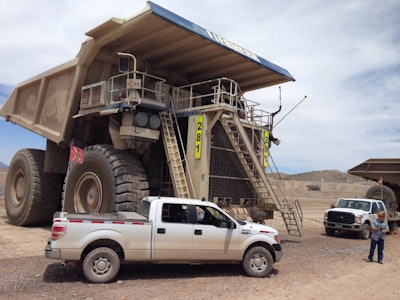 Barrick Gold USA played a key role in the development of Ford's new F-150.
The mining survey team for the largest gold producer in the world drove two prototype F-150s with experimental aluminum-alloy cargo boxes at the company's Bald Mountain and Cortez mines in Nevada from 2013 to 2014. They beat on them, battered them and tortured them. Or, as Ford refers to it, "tested them."
It was all part of Ford's real world testing for the 2015 F-150, a truck that would not only have an aluminum box but a whole body made of the alloy. And while Ford was grateful to the company for putting the alloy to the test, Barrick came away so impressed that the company has placed an order for 35 of them as they remove 2012 models from service.
The company recently placed an order for F-150 SuperCab 4×4 models outfitted with a mix of the 3.5-liter EcoBoost V6 and 5.0-liter V8.
Barrick currently has a fleet of previous-generation F-150s that it uses in all six of its U.S. gold mines, driving the trucks in initial exploration and mine support functions as well as land reclamation. Barrick uses the pickups to haul compressors, pintle hitches and heavy tools.
"The F-150s see tough duty from operations supervisors, exploration field technicians, project managers, maintenance technicians and closure personnel," said Rebecca Caudill, Barrick Gold USA fleet manager. "Many of the trucks go into extremely rugged conditions during the planning and mapping out of new projects, core drilling and daily mining operations. Our trucks will see 30,000 to 35,000 miles per year, accumulating well over 100,000 miles in the 40-to-45-month lease rotation."
Editor's Note: Jason Cannon is the online editor for sister sites Hard Working Trucks, Truck Parts and Service and Successful Dealer.