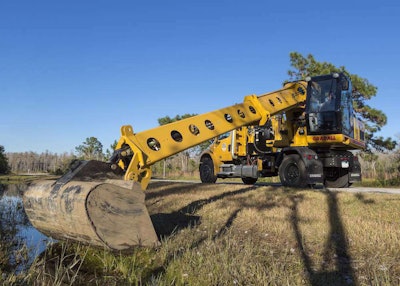 Saying that Gradall wanted to give its users "more dig for the dollar," the company is introducing what it calls "the industry's first crossover hydraulic excavator," says Michael Haberman, Gradall president.
The Discovery models—including the two-wheel-drive D152 in production by May and a four-wheel-drive D154 to be introduced later this year—offer the company's signature full-tilting, telescoping boom mounted on a Freightliner M2 truck chassis.
Gradall makes it clear this is a machine aimed at markets that are price sensitive, including municipalities and smaller contractors. Typical applications include ditching, grading, culvert replacement and landscaping. The 32,000-pound machine is priced $70,000 below Gradall's next size, the 41,000-pound XL 3100 IV wheeled excavator.  Other features include:
The ability to move from job to job at a top speed of 55 mph without the need for a lowboy trailer.
The boom telescopes out to 27 feet, 10 inches at grade, which the company says offers more reach and range than a backhoe or compact excavator. The boom design is a smaller version of the one on the XL 3100 IV model and tilts 220 degrees without sacrificing boom power.
The low-profile boom can work under bridges, in tunnels and under signage and in other situations where a traditional boom cannot work.  And the near zero tail swing won't obstruct traffic on narrow roads, according to the company. "It fits where other machines won't fit," Haberman says.
The Discovery series was prompted by the realization that with its emphasis on larger machines the company had left a large category of machines untouched. "Also, most of our municipal customers do not like to leave their machine on the jobsite, and their jobs are scattered throughout an area," Haberman says.
Deciding to mount the machine on a purchased chassis, Gradall turned to Freightliner, a partner in parent company Alamo Group's Vacall business.  The two companies worked together to reinforce the chassis, enabling it to withstand the forces the mounted excavator would put on the truck. In addition, Gradall continues to partner with Bosch Rexroth on the pressure-compensated, load-sensing valve hydraulic system.
Unlike the rest of the Gradall lineup, which are now powered by Volvo Penta in a recently announced supply agreement, the Discovery models will be powered by a 220-horsepower Cummins 6.7-liter engine.
"The reality is that there's a market that doesn't need to have a large machine," Haberman says. "This puts us back into a market class we left."